Dashboard Home #
Fluent SMTP is the fastest and most advanced WordPress Mail SMTP plugin in the market. We crafted this plugin for speed, reliability, and scalability.
Real-Time Email Delivery
Email Routing to multiple email connections
Connect with Any Email Service Providers
Email Logging and resending features
Fallback Email Connection
Resend Any Emails
In Details Reporting
Super fast UI powered by VueJS
The Fluent SMTP Dashboard shows reports regarding the summary of Sent Emails, Connection Details, etc.
Settings #
This section is the central operating settings of the Fluent SMTP. We have in-depth documentation here Fluent SMTP Settings
Email Test #
This is a very useful feature of the Fluent SMTP to confirm the deliverability of any configured Email Connection.
Send a test email #
From: To send a test email the From Field will let you choose the Sender Email based on the configured Email Connection. If nothing is selected the default connection will be used.
Send To: You should use a free ESP Email Address in the Send To Field to get the test email and confirm if the email is received or not.
HTML: Whether to send the test email in HTML MIME or in the PLAIN TEXT version.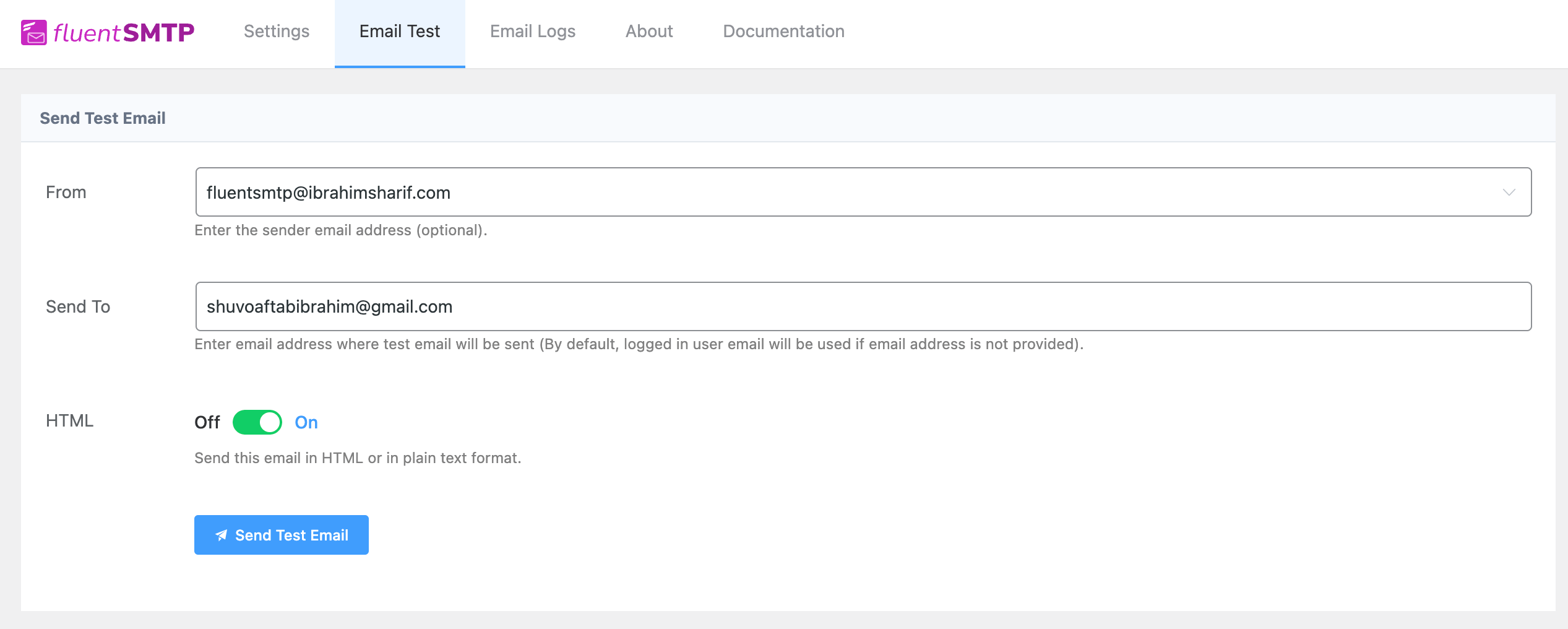 Test Email Confirmation #
Now once you Send a Test Email from the previous section, if there is no issue in connectivity to the remote mail server and the authentication credentials it will show a successful message as below:

Confirm Test Email Deliverability #
Now it's time to check from the Email Client to see if the Test Email is received or not. In our case, we used a Gmail account to receive the test email and it was received successfully as you can see below: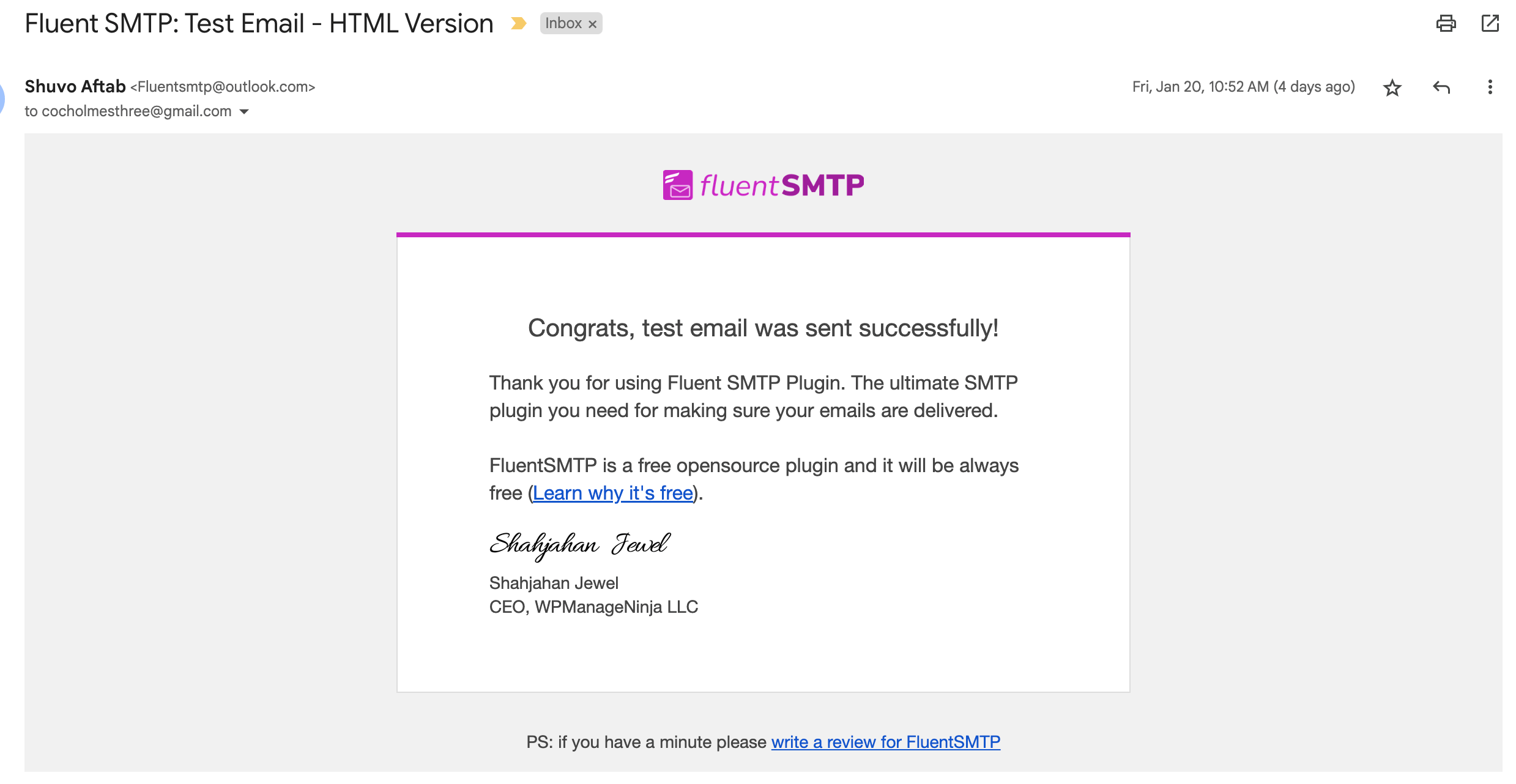 If the test email is not under Inbox Folder, please check for Junk or Spam folder as well since there are thousands of factors regarding Domain, IP, and Delivery Provider reputation that may impact the landing of the email directly under the Inbox Folder.
Documentation #
The last Menu contains documentation for various settings and guides on how to configure and use Fluent SMTP.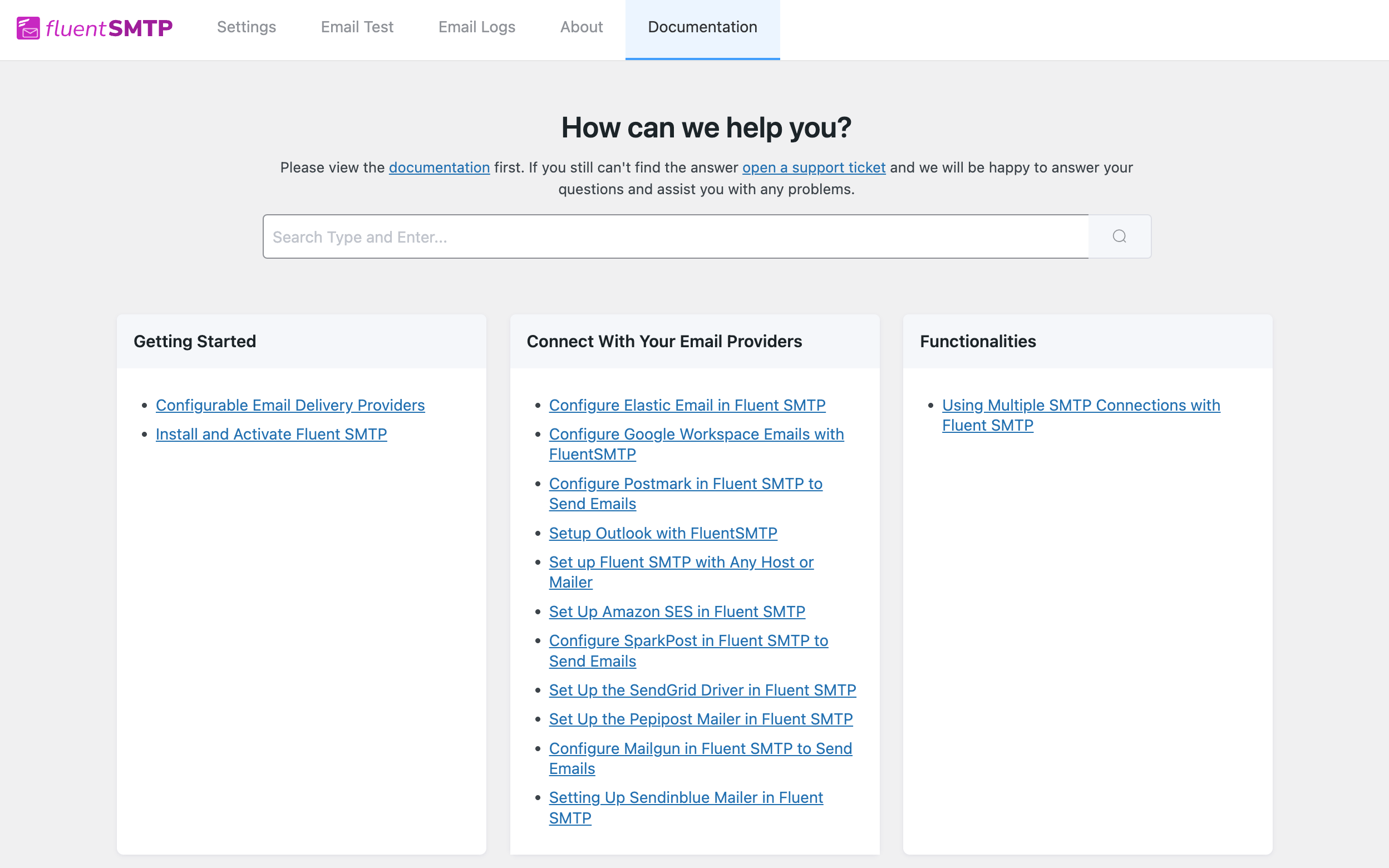 That's all about the Fluent SMTP Dashboard and its features. Happy Fluent mailing!