The Best Transactional Email Services for WordPress
Email is the most reliable form of communication, and WordPress sites send tons of emails every day. These are called transactional emails.
Some of the standard transactional emails are:
Form submission notifications
Order confirmations
Comment notifications
Email opt-in confirmations
In order to send transactional emails reliably, you need to use transactional email services. And in this article, we've put together a list of the best transactional email services for WordPress.
Before we get to the list, why should you use a transactional email service for WordPress in the first place?
Why should you use a transactional email service for WordPress?
When people submit a form on your website, they at least expect a confirmation email. Consequently, failing to send an order confirmation email will reduce customer's trust in your business.
Transactional emails are basically website notifications and commercial transaction confirmations from WordPress. Unlike marketing emails, they are opened more often, and your audience depends on them to engage with your business with trust.
Besides, you can customize your transactional emails to match your branding and boost sales by upselling and cross-selling products. However, it all depends on whether they are being sent or not.
Generally, when an email is triggered from WordPress, WordPress processes it into PHP mail packages and sends them over to your web hosting server for further processing and delivery.
In some cases, this might get a few transactional emails delivered. But there are several reasons why you shouldn't trust this method. The reasons include:
Hosting servers do not allow PHP emails: WordPress processes transactional emails using the wp_mail() PHP function and sends them in the background using your hosting server. While some hosting servers allow for sending these kinds of emails, some don't. And if your host is blocking PHP emails, they won't be sent at all.
Hostings aren't optimized for emailing: Although some hosting servers allow for sending emails, it's a secondary duty for them. A hosting server's main job is hosting your website's content. They won't compromise hosting resources such as server speed and memory into delivering your emails. As a result, your transactional emails may deliver slowly or worse, go to spam.
Hosting servers have email sending limits: Again, many hosting servers implement email sending limits. They only allow for sending a specific number of emails at a time. Since it's vital to send transactional emails almost immediately, this limit may be a problem when your website sends too many emails at once.
Shared hosting servers do not come with a dedicated IP address: If you're using a shared hosting server, you're essentially sharing the same IP address with a few other people. Even if you don't send spam emails, others on the same server may do. Since email clients block IP addresses that spam, your transactional emails will also land in spam.
No stats and analytics: Hosting servers do not offer any stats and analytics feature to track your transactional emails effectively. And without accurate stats and analytics, you won't know how many emails are making it to the inbox or how many emails are getting opened.
There are two possible outcomes if you don't use a transactional email service-
Your emails won't send at all
Your emails will go to spam
If your transactional emails aren't being sent at all, your audiences are unlikely to remember you, and you'll lose out on a good branding opportunity (or selling if there's a chance to upsell).
On the other hand, WordPress emails going to spam has a terrible impact on your business. Just imagine how worried your customers will be when they see an order confirmation email in their junk folder.
This goes even further – email clients may blacklist your domain and IP address entirely, making them entirely ineffective for the future! Hence, you should never use WordPress for sending emails. Instead, consider using a transactional email service for your WordPress site.
Top 5 transactional email services for WordPress
Many free WordPress SMTP plugins integrate with transactional email services and allow you to deliver emails reliably. With a transactional email service set up and configured, you can easily deliver large chunks of emails and track email deliverability, opens, clicks, complaints, etc.
So without wasting any more time, let's jump right onto our list of top five transactional email services for WordPress!
| Service | Free Limit | Price |
| --- | --- | --- |
| 1. Amazon SES | None | 1000 emails $0.10 |
| 2. MailGun | 5000 emails/mo(3 months) | $35/month(50K emails) |
| 3. PostMark | 100 emails/mo | $10(10K emails) |
| 4. SendGrid | 100 emails/day | $14.95/mo(50K emails) |
| 5. Sendinblue | 300 emails/day | $25/mo(10K emails) |
1. Amazon SES
Amazon Simple Email Service, aka Amazon SES, is one of the many wonderful services offered among Amazon Web Services (AWS). It's a cloud email service that lets you send transactional and marketing emails via SMTP API and allows you to track your emails for delivery, bounces, and complaints.
Amazon SES seamlessly integrates with other AWS services like Amazon EC2 and Amazon SNS and provides every user with a dedicated IP address – making it one of the most feature-packed transactional email services for WordPress!
However, a notable downside of Amazon SES is that they initially sandbox you to prevent spamming. So you need to provide a lot of details to get approved for their service. If you want to use Amazon SES for sending transactional and marketing emails from WordPress, you can check out our complete guide.
Price: Amazon SES provides 62000 emails for free if you're using Amazon EC2. But if you're only interested in using the service for WordPress emails, it will cost you $0.10 per 1000 emails.
2. Mailgun
Mailgun has an innovative set of features for sending transactional emails. Although it markets itself as an "email service for developers," it provides SMTP and API connections to send, receive, and track email easily.
Mailgun uses the standard email authentication methods (i.e., DKIM, SPF, and DMARC) and supports batch sending and scheduling delivery of emails. It also includes other essential features such as a dedicated IP address, email address verification, and an email spam checker tool for ensuring email deliverability. Additionally, you can access 30-days of email logs from Mailgun's dashboard and retain emails for seven days.
Price: Mailgun is free to get started with 5000 emails for the first three months. If you need to send more emails, you can get their foundation plan which includes 50000 emails for $35/month. It also features a pay-as-you-go model if you exceed your existing plan. For every 1000 emails after your regular limit, Mailgun's email service will cost you $0.80.
3. Postmark
Postmark is another reliable transactional email service for WordPress with a robust infrastructure. It gives you access to their SMTP and API for sending transactional emails from WordPress like any other email service.
Postmark is unique in measuring inbox placement time for major ISPs such as Gmail, Yahoo, Outlook, AOL, and iCloud. You can see the estimated inbox placement time for each of these ISPs and filter analytics data.
The analytics data includes 45 days of full email history, and you can track open, delivery, bounce, and link click events through Postmark's user-friendly dashboard. And, of course, it provides a dedicated IP for better email deliverability.
Pricing: When compared to the others on this list, Postmark's pricing is slightly complicated and expensive. Although you can start with 10000 emails for just $10, additional 1000 emails will cost you $1.25. However, as you move to a larger email sending plan, the cost for additional emails will decrease. Plus, there's also a monthly fee for a dedicated IP.
4. SendGrid
SendGrid is a premium transactional email service designed by cloud marketing platform Twilio. It provides high-deliverability email service through SMTP and API. With a dedicated IP pooling feature, SendGrid utilizes DKIM and SPF methods for effective transactional email deliverability.
Moreover, you can protect your email sender reputation by using SendGrid's email validation API and reverse DNS to verify the email address you're sending from. If you want, you can also use SendGrid's email testing tool to check the inbox placement rate and prevent spam filters from blocking your emails.
For easy email tracking, SendGrid lets you monitor sent emails using recipient engagement data, and you can view email activity history for up to 30 days.
Price: SendGrid offers 100 emails/day for free. However, you can grab their Essentials plan for sending regular transactional emails for $14.95. Note that the essentials plan comes with shared IP. If you need dedicated IP with all features, you need to be on the Pro plan, starting at $89.95/month.
5. Sendinblue
Sendinblue is an email marketing automation platform that also offers transactional email service via SMTP and API. Using their SMTP relay,
Although it is primarily aimed towards email marketing automation, Sendinblue has a robust email sending infrastructure for reliable email deliverability across email clients. That said, you can send both transactional and marketing emails without worrying about getting marked as spam.
Additionally, Sendinblue provides you real-time engagement and deliverability statistics of your transactional emails. You can view email logs with detailed open, click, bounce, and complaints.
Note that Sendinblue doesn't offer a dedicated IP unless you get a custom Enterprise plan. However, your email deliverability will remain unaffected as Sendinblue maintains a high standard for sending emails through the platform.
Pricing: Sendinblue allows you to send 300 free emails/day. Apart from that, they have two simple pricing tiers, both of which also include marketing automation. Hence, Sendinblue may seem a bit expensive if you're only interested in sending transactional emails.
The Lite plan starts at $25 and includes 10000 emails, and the Premium plan starts at $65 with 20000 emails.
So there you have it, the five best transactional email services for WordPress. These are reliable for sending transactional emails from WordPress. So you won't go wrong with any of them.
Not sure how your WordPress emails will be sent using transactional services?
Enter FluentSMTP!
Ensure email deliverability with FluentSMTP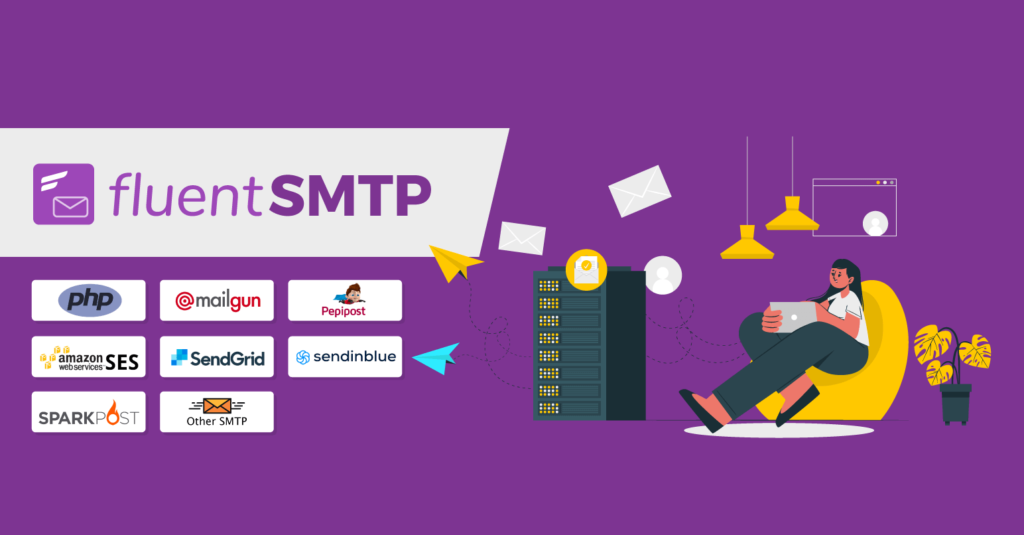 FluentSMTP is a free SMTP plugin that integrates with all of the transactional email sending services we've mentioned above. You can check our documentation to integrate these email services easily on WordPress.
With FluentSMTP, your WordPress emails will be delivered reliably and faster using native API integration. Plus, FluentSMTP has several outstanding SMTP features such as Email logs, multiple SMTP connections, email fallback, and email notifications.
Having detailed email logs, you can track whether WordPress emails are delivering correctly or not. You can also use multiple SMTP connections and email fallback to ensure your website's emailing is never offline! And finally, you can set up automated email notifications for getting a detailed email sending report for your WordPress site.
So go ahead and download FluentSMTP now and send WordPress emails the right way. It takes less than 5 minutes!