15+ Must-have WordPress Plugins for Every Website
WordPress is a remarkable platform for sharing and managing content. It's become popular for a number of reasons. The most prominent reason, however, is definitely the massive market for WordPress plugins.
Plugins let you craft your WordPress website exactly the way you want it. With so many plugins to choose from, chances are you'll find it hard to keep track of them. In fact, too many plugins can cause issues on your website.
Types of WordPress plugins you need
While there may be tons of plugins available, you only need so many. That's exactly why we've come up with 15 types of plugins you must have on your WordPress website.
Along with that, we've added examples of our favorite plugins that get the job done. It's not necessary for you to spend a ton of green on these plugins. Most have free versions available with some reliable features. Here are the main types of plugins every WordPress website needs.
We've categorized the plugins based on the functions that every WordPress website needs. So let's check them out. Whether you've just created your WordPress website, or have been using one for years, check these plugins out to make the most of WordPress!
Page builder and SEO plugin
These plugins are meant to make your work easier as an administrator and marketer. All plugins will make your work easy, but these are essential for you to use. Your website users aren't going to interact with these plugins as they will with the others on this list.
Page builder
Getting a Page Builder plugin is the first step to smoothing out your WordPress journey. The prime reason to install a page builder plugin is that it lets you create completely custom web pages within minutes without the need for a developer.
1. Elementor

As far as Page Builders go, Elementor is by far the most elegant and easy-to-use plugin on the market. Elementor, unlike other page builders, lets you see the changes to the web page as you make them.
After creating the page you simply drag and drop widgets from the left panel to your web page. Elementor comes packed with tons of widgets including the most common website elements.
Aside from the basic image and text widgets, Elementor provides advanced accordions, icons, sliders, social media, testimonials, tabs, etc. Each widget is also customizable through its settings.
The best part is, Elemntor lets you import widgets from other plugins.
Don't want to build a page from scratch?
Elementor comes with ready-to-use templates even in the free version. You can point and click to edit the templates, replace their content and even customize the layout.
Pricing: Elementor has a free version for an unlimited number of sites. For more features, there are paid plans starting from $49/year for one website.
2. Ultimate Addons for Gutenberg (UAG)
If you love working with the WordPress default block editor, Gutenberg, you surely want to install the Ultimate Addons for Gutenberg (UAG).
The Gutenberg block editor has changed the way we create pages or posts in WordPress. While the classic editor was pretty straightforward, it was limited in its ability to create some stunning websites.
With the advent of the block editor, you can simply drag and drop a block onto your page. And to make things even better, there are the Ultimate Addons for Gutenberg (UAG).
Ultimate Addons for Gutenberg (UAG) has been developed by the team behind the super popular Astra theme. Using UAG's powerful blocks, you can get creative with your web designs without having to write a single line of code. And the best bit is, UAG is free!
UAG offers 30 fantastic blocks, some of which are star ratings, blockquote, call to action, post timeline, how-to schema, faq schema, and several more.
Want some professionally designed website templates? UAG has it too. When you install the plugin, you get access to 20+ pre-built website templates built using Gutenberg and the Astra theme. Launching a website couldn't be any simpler!
Price: Ultimate Addons for Gutenberg is completely free. So if you're using the default editor, nothing's stopping you from downloading the plugin!
Alternative: Beaver Builder and Divi page builder are considerable alternatives with similar features.
SEO
To optimize your content for better SERP and traffic you need an SEO plugin. SEO (or, search engine optimization) increases your website's visibility and drives traffic to your platform.
3. Yoast SEO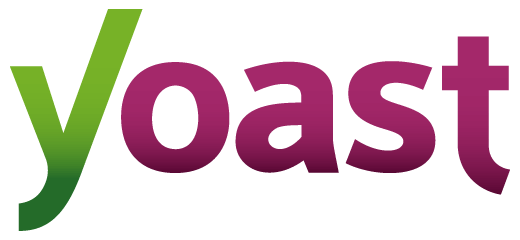 We've been using Yoast SEO for as long as we can remember and honestly, it's the simplest plugin in maybe all of WordPress.
Yoast analyzes your content in real time and provides suggestions to optimize your content. Google has set some distinct criteria for ranking content and Yoast provides a checklist of those criteria. So you can evaluate how good your content is from a search engine perspective as you write.
You can use the free version of Yoast SEO on your website. The only drawback to the free version is that it doesn't allow more than one keyword. For that you'll need to go for the premium version.
Price: Yoast SEO is Free. However, there is a premium version for it with additional features such as inbound link suggestion, keyword suggestion, and automatic linking. Premium costs $89/year for one site.
Website maintenance plugins
After you've set up the plugins that give you insight about your website and activities, your site still needs maintenance. The plugins we're going to talk about next are meant to keep your website running smoothly and safely, for both you and your users.
Automation
Any seasoned WordPress user knows how important it is for plugins to connect with each other. Trust us when we say, getting plugins to work together is easier said than done. Automator plugins solve this problem by automating WordPress tasks using input from other plugins.
4. Uncanny Automator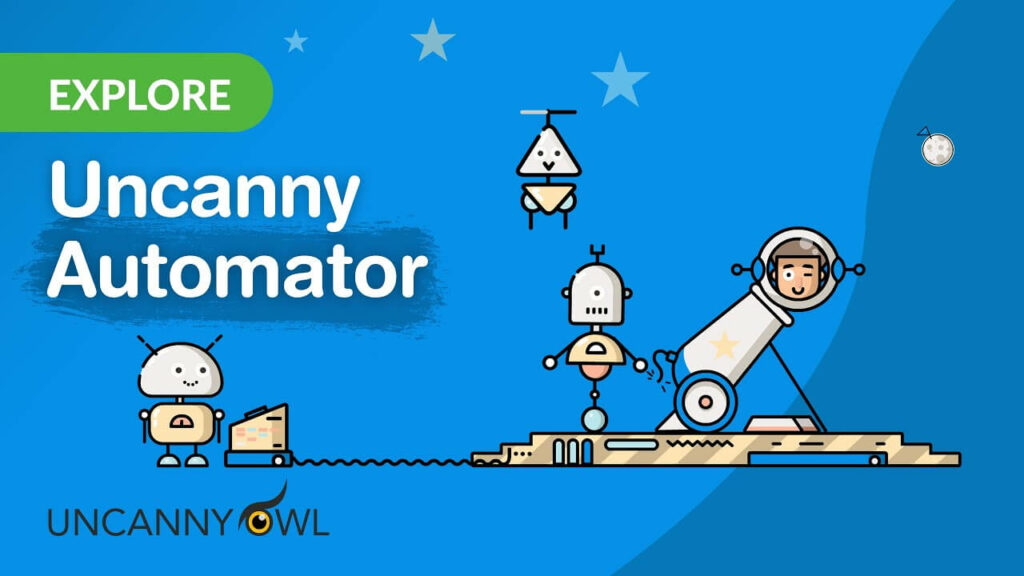 When talking about WordPress automation plugins Uncanny Automator is the first that comes to mind. It connects your existing WordPress plugins to work together without any form of coding knowledge.
With Uncanny Automator you can build automation recipes without needing to hire a developer. The list of supported plugins is remarkable in its own right.
Uncanny Automator simplifies your automation needs into "if this then that" style recipes so you can automate all of your sites admin activities. Some have gone far enough to call it Zapier for WordPress, and rightfully so.
You can even connect two separate WordPress sites for businesses running online stores and membership sites.
Price: Uncanny Automator is a paid plugin with plans starting from $199/year.
Backup plugin
As your business grows, your website grows with it. Not just that, your customer information and intellectual resources grow too and quickly become liabilities than resources. While you might think storing all your website data on a third-party server makes the most sense, the truth is very different.
Aside from security breaches your website data can become inaccessible due to server management mishaps and accidents. To keep your website in working order under any circumstance, you need to backup your website. That's where WordPress backup plugins come in.
5. Jetpack(VaultPress)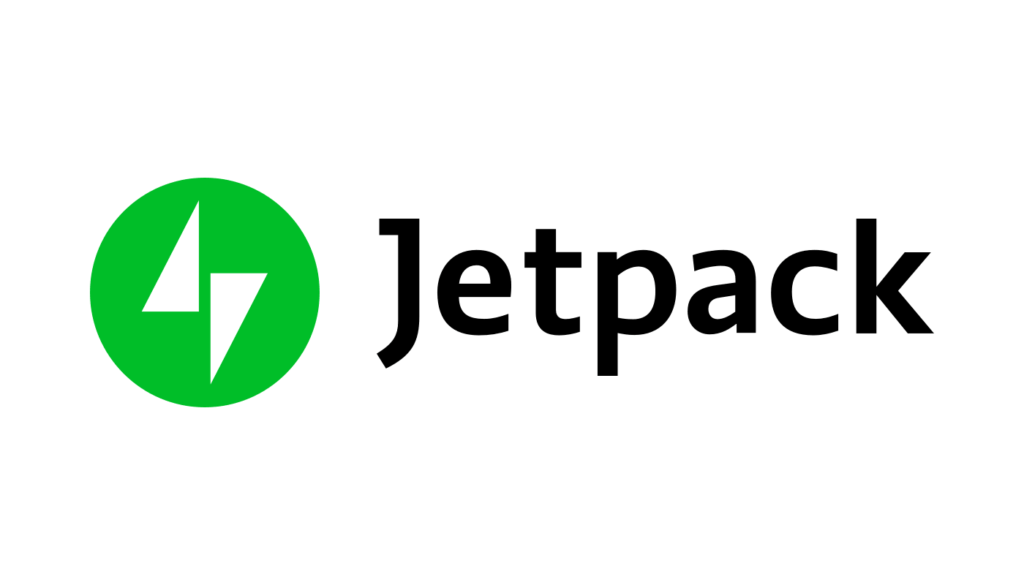 Jetpack Backups is one of the popular WordPress backup plugins currently available. It's designed to set up automatic backups and safely store them on remote servers such as Google Drive, Dropbox, FTP, S3, email, and more.
It's super easy to restore your website with Jetpack Backups.
Price: The best functions come with the premium version costing $79.95/month
Alternative: BackupBuddy is a comparable solution but doesn't have a free version.
Caching
WordPress is a dynamic environment that fetches information from your database and then runs several other steps every time a user logs on to your website. Caching helps you speed up your WordPress site and boost performance by allowing your WordPress site to skip some of these steps.
Instead of generating a new page every time, a caching plugin stores a copy of the page on the first load, and then serves that cached version for every subsequent request. This makes your website load faster, especially when you're dealing with heavy traffic.
6. WP Rocket

WP Rocket is by far the most popular WordPress caching plugin. It instantly improves your website's speed and performance with zero technical skills required.
What makes WP Rocket a reliable solution is that it automatically turns on recommended caching settings like page cache, cache pre-loading, and gzip compression.
Most importantly, WP Rocket doesn't need a page request to save its cache version. Instead, it automatically crawls and builds your website cache.
Price: There is no free version. Plans start with a Personal plan for $49/year
Alternative: WP Super Cache is free, but it's not as powerful or as easy.
Security
Security is always a concern when dealing online. WordPress security plugins are designed to protect your WordPress site from malware, brute force attacks, and sophisticated hacking attempts.
A security breach can cause serious damage for your business such as, data theft, malicious code attacks, loss of website admin control.
7. Sucuri

Sucuri is a WordPress security plugin with its own web application firewall that is probably one of the best protection money can buy.
Apart from the brute force attacks, Sucuri protects against DDoS, malware threats, XSS attacks among the more common issues.
Price: Basic plan starts from $199.99/year with security checks every 12 hours. In the Business plan, this comes down to just 30 minutes and costs $499.99.
SMTP
WordPress uses the PHP function to send emails. Whether it's a WordPress email or a Transaction email, from your CRM the protocol is the same. A huge drawback to this is the WordPress PHP emails are flagged as spam by many email providers.
Which means that you and your users may not receive important email notifications from your WordPress site. To protect your email marketing investment an SMTP plugin is a must.
8. FluentSMTP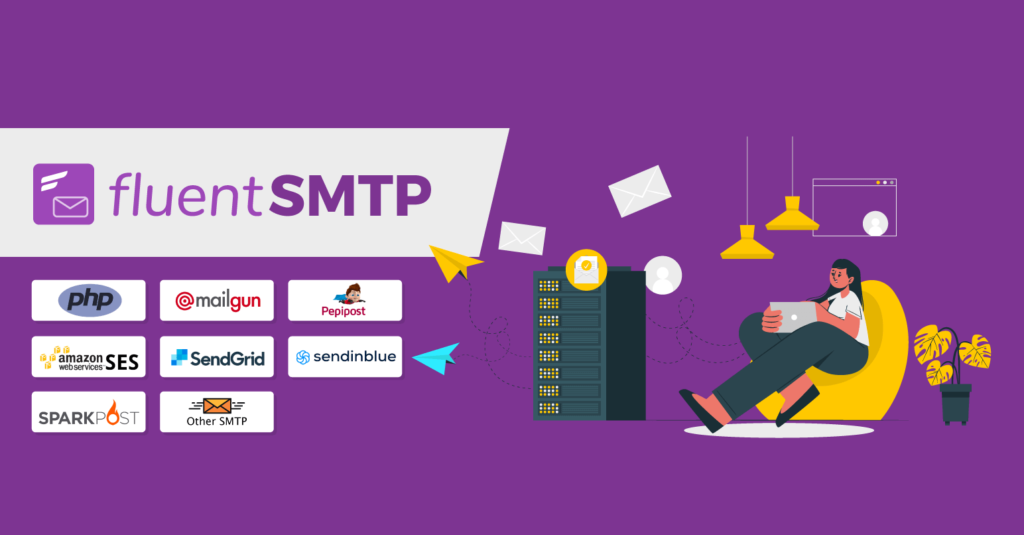 FluentSMTP is an incredible option that solves this issue by sending your emails using an SMTP mail server. It's designed to ensure the highest delivery success rate among any WordPress SMTP plugin.
It allows seamless integrations with the best email providers like SendGrid, SparkPost, Pepipost, and AmazonSES. The key feature with FluentSMTP is that it allows you to track email logs with zero constraints. Along with that, you can route emails with multiple providers with a very easy setup process.
The result is a drastically reliable and efficient SMTP service with no competition on the market.
Price: FluentSMTP is the only WordPress plugin on this list that is completely free for life.
You might want to read: Fluent SMTP: Our gift to the WordPress Community!
Plugins for user interaction
Now that your website is setup and running at peak performance, it's time to focus on your users and site visitors. Plugins in this section are meant to make collecting user information and interacting with them easy and intuitive.
Form plugin
If you have a website and there is traffic that you need to convert to leads and buyers, you need forms. Forms let you collect information from your customers and leads about them and about your business. Hence having a functional form plugin is not a choice.
There is no better way to collect customer information than using forms. No matter the type of business or website you run, a form plugin is a must. Since it collects sensitive information, the form plugin needs to be secure and reliable.
9. Fluent Forms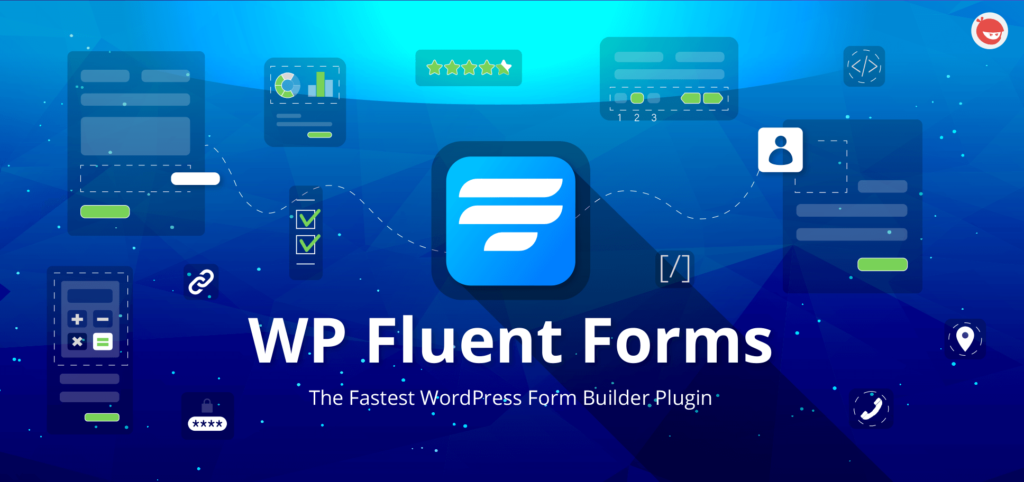 Our pick for the WordPress form plugin is none other than Fluent Forms. It's the most sophisticated and user-friendly form plugin available on WordPress.
Easily create contact forms, opt-in forms, online orders, pay forms, surveys/polls, basically any variety of online forms with a simple drag-and-drop interface. It comes with more than 60+ customizable templates and that are available in the free version.
The best part of Fluent Forms is it seamlessly integrates with more than 30 popular WordPress plugins including Mailchimp, Zapier, Webhooks, and more.
Price: Fluent Forms offers a free version. Paid plans start with a single site plan at $59/year.
Push Notifications
Push notifications are automatic messages sent to website visitors when they're not on your site. A pop-up acts as an opt-in page for users to choose whether they want to receive such messages.
If they agree, the website can send push notifications to browsers or devices (computer, phone, etc). These messages usually contain site updates, products, new posts, special offers etc.
We did some research and found WPBeginner deeming push notifications one of the top 5 sources of their total traffic. In the case of a massive website like WPBeginner, that's a huge amount of traffic no matter how you look at it.
10. PushEngage

PushEngage is our pick for a push notification plugin for WordPress websites. Using the browser push notification technology, it allows you to forward targeted messages and promotions.
PushEngage boasts some remarkable features like drip campaigns, powerful analytics, goal tracking, A/B testing, opt-in reminders, dynamic user segmentation, and much more.
PushEngage works perfectly on all content platforms including WordPress, Shopify, Bigcommerce, etc.
The mention-worthy aspect of PushEngage is that they DO NOT sell your data, unlike their competition.
Price: PushEngage has a free version available although the premium plan provides features that are worth the dime. The Business plan starts at $29/year.
Alternative: OneSignal is a popular alternative but you'll have to compromise your data privacy.
Giveaway and Contests
Giveaways aren't meant to give value to just customers. They're also meant to expand your brand's reach. If you're ready to connect with your prospects with engaging events you need a Giveaway plugin. It enables you to increase your traffic, amass social media followers and email subscribers instantly.
11. RafflePress

There are tons of Giveaway and Competition plugins out there. RafflePress is our pick for the best WordPress giveaway plugin.
RafflePress is an easy drag-and-drop builder packed with tested giveaway templates. It lets you easily connect your business's social profiles, and form plugins, along with popular marketing platforms and CRM solutions.
Price: RafflePress offers a free version called RafflePress lite. Paid plans start with the Plus plan at $49/Year.
Social
If WordPress is the online home of your business, Social Media is where it grows and develops character. With the internet revolution, social media has sparked, it's no surprise that it's the second-largest source of traffic for most businesses.
Social plugins for WordPress are designed to make sharing your content as easy as a walk in the park.
12. Shared Counts

Shared Counts is one of the top WordPress social media plugins available right now. It allows you to add beautiful and enticing social sharing buttons to your website, with just a few clicks.
Although limited, it supports the most popular social networks i.e. Facebook, Twitter, Stumbleupon, Pinterest, and LinkedIn.
The best part is the plugin provides a rudimentary social share count for each network. With the simple view, you can see the total number of shares on all networks.
Price: This is perhaps one of the expensive plugins on this list with the Personal plan costing $40/month.
Helpdesk and Support
Whether you sell a product or service, customer support is something every business needs.
A help desk plugin lets you manage technical questions and issues about your business from the comfort of your WordPress dashboard.
A helpdesk WordPress plugin is meant to help you organize customer complaints in the order they come in. These plugins function by assigning customers a ticket and redirecting them to the proper department for help.
13. Knowledge Base

The Knowledge Base WordPress plugin is one of the best help desk plugins out there. It helps you build a self-service help desk for your customers in minutes. You can even create resources with helpful articles and demos.
You can create a complete support center including FAQs, product or service documentation, wikis, and a lot more.
Price: Knowledge Base starts with a personal plan at $74/year along with a Professional plan costing $184/year.
Communication and analytics plugins
Lastly, your website needs a way to communicate with and manage contacts that you gather, either as leads or as customers. To make this possible you need at least 2 of the following plugins.
Contact management and Marketing Automation
After managing your website's resources and functionality, let's look at WordPress plugins that make it easier for you to interact with your users. The ultimate goal of these interactions is to generate leads. Next, you'll need to manage these leads, especially for email marketing.
Among the few real WordPress email marketing plugins, our pick is FluentCRM. One of the reasons to go for FluentCRM is that it provides both these solutions in one plugin.
14. FluentCRM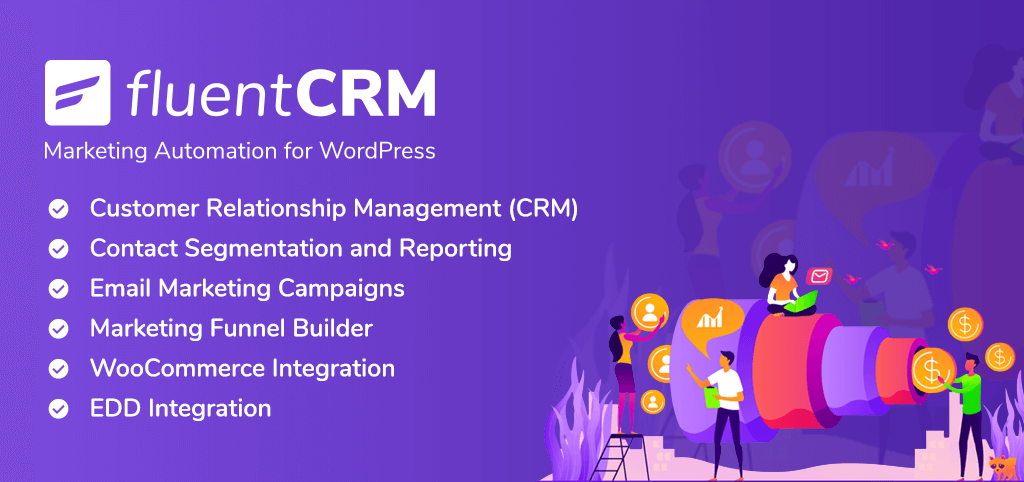 FluentCRM is one of the smoothest WordPress email plugins for contact management and marketing automation out there. No need to do a ton of learning to be able to use it to the fullest. With an elegant UI, it actually makes your work easy.
Packed with sophisticated features like a 360-degree contact view, FluentCRM makes contact management easier than ever before. Along with that you get email campaigns and funnel automation so you can run your business on autopilot.
Moreover, FluentCRM comes with FluentForms integration for creating stunning forms for lead collection.
The groundbreaking feature on FluentCRM is Dynamic Segmentation that automatically segments your contacts based on the criteria you need. When it comes to automated features FluentCRM really takes the cake!
Price: FluentCRM has a free version with limited features available. Paid plans start with the Single Site plan at $129/year.
Analytics
Analytics is all about understanding and evaluating the impact of your efforts. Only then can you optimize your website to increase your traffic, leads, and revenue.
While there are renowned names such as Google and SEMRush involved in analytics, it still has some way to go to become seamless. Mainly because these providers do not integrate directly to your WordPress dashboard.
If you're hosting your business website on wordpress you need real time analytics. The best option to get seamless analytics on every aspect of your business is to get an Analytics plugin.
15. MonsterInsights

MonsterInsights is undoubtedly the best Google Analytics plugin available for WordPress. Essentially it's a client integration that "properly" connects your website with Google Analytics.
No more going back and forth between your page and Google Analytics to understand your business. MonsterInsights brings your Google Analytics reports right to your dashboard.
Used by over 2 million websites, you really can't go wrong with MonsterInsights. There's a free version available so check it out if you're in need of hassle-free analytics reports.
Price: While the free version is okay, the real power comes from the paid plans with the Basic Plus plan costing $199/year.
Chat Support
Your relationship with your customers should never be one-sided. While you need to communicate your ideas and promotions, your customers need to communicate their pain points and experiences with your business. This is where Chat support plugins are necessary.
Chat support plugins integrate a chatbox on your website, so your customers can chat with your support team without leaving your site. While mailing is good it's not the ideal form for this kind of communication. Chat support on the other hand lets you manage customer feedbacks and return prompt and adequate replies
16. LiveChat

LiveChat Inc is our pick for chat support. It is super effective for businesses and e-commerce websites. LiveChat is easy to use and lets you add live chat on your WordPress website in just a few clicks.
With tons of customization options and it's own mobile app LiveChat is a complete solution. It is compatible with most existing support software, CRM, email marketing, and other tools.
Price: LiveChat only offers a 14 day trial period before you have to purchase. Paid plans start from $16/month.
Wrap Up
Treat this blog as a complete checklist when you are going to set up plugins on your WordPress dashboard. While the examples are options that will work without fail, you can always try new things. The key takeaway is understanding the types of plugins a WordPress website needs. Most of our recommendations have free versions so don't hesitate to check them out. You never know which plugin just might be the right fit for your business.