5 Best WordPress SMTP Plugins for Reliable Email Delivery
When a WordPress email doesn't reach the desired destination, getting frustrated is pretty normal. However, finding the issue and fixing it can require time and resources that you'd rather spend on other more important things.
Using a WordPress SMTP plugin could be your solution for most WordPress email woes. It allows you to send emails using a different approach that has a considerably higher deliverability rate. WordPress SMTP plugins make sure that the emails you send to your subscribers reach their inboxes and not the spam folder. 
In this article, we'll explain what SMTP is and why it's a better alternative than WordPress' native email system. We also have a list of the best WordPress SMTP plugins that you can install to make using SMTP with WordPress a lot easier.
What is a WordPress SMTP plugin?
Basically, a WordPress SMTP plugin is a tool that enables you to send and receive emails. It lets you send emails created from your website through a dedicated email service provider (ESP), rather than sending it directly from your website's server.
If you own any kind of WordPress site that allows visitors registration – like an eCommerce shop or a blog site; you'll have to send uncountable emails to your users. For instance, order confirmation emails, newsletters, password reset emails, etc.
It can be a headache to send and receive emails from your WordPress website sometimes. When you use the built-in WordPress email system – wp_mail() to send your emails – a large portion of those emails will probably go to recipients' spam folders or may not be delivered at all.
A WordPress SMTP plugin saves you from this misery by sending emails through dedicated email service providers. Chances are, the majority of the emails in your inbox were sent using an SMTP server.
Why email via an SMTP plugin?
To illustrate why you should send emails through an SMTP plugin, let's look back and see how your WordPress site sends out emails by default.
By default, WordPress uses the wp_mail() function to send out emails through the PHP mailer. In short, it means that your site is delivering emails from the same server it is housed on, which is undoubtedly UNOPTIMIZED for sending emails. 
It's easy and functional, but it has no role in authentication. That is why emails sent through WordPress's built-in PHP mailing system frequently hit the spam folder or sometimes just get completely blocked by email providers. 
WordPress SMTP plugins are a great alternative to the built-in wp_mail system. Using SMTP, you can set your WordPress site to send out emails through a perfectly configured SMTP server instead of your WordPress site's server. Your WordPress site sends emails to the SMTP server with this setting, which then processes and delivers them to their expected destination (the user's inbox).
The Best SMTP plugins for WordPress(handpicked)
A WordPress SMTP plugin connects your website to an SMTP server, allowing you to receive and send emails. The majority of these plugins cover a wide range of email service providers and offer one or two integration options.
WordPress website owners have access to a variety of SMTP plugins and SMTP services. They all differ in terms of functionality, pricing, and the number of emails you can send on their free plans. Their track records for delivery also vary.
The finest SMTP plugins with the best deliverability and feature sets are listed below: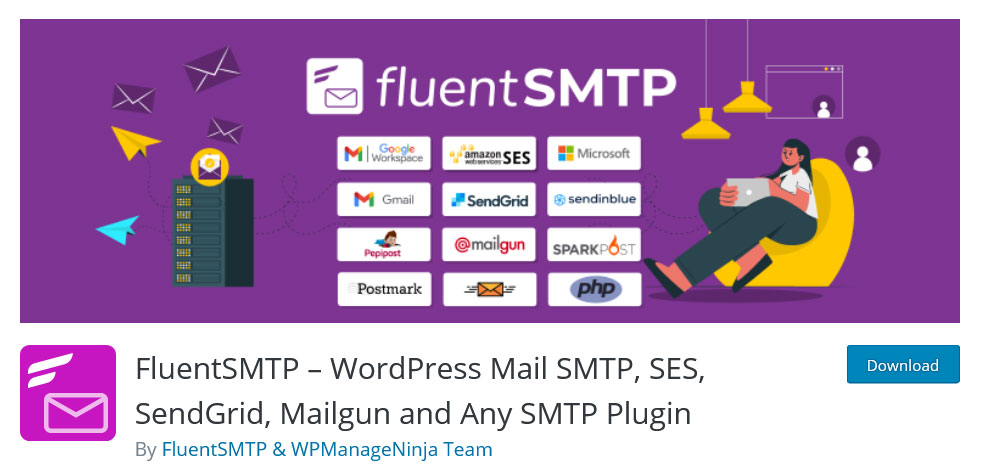 FluentSMTP is the fastest-growing plugin out there. It's a simple WordPress SMTP plugin with no gimmicks that perform just what it says on the tin (deliver email via SMTP). And the developers of FluentSMTP have made it a free, open-source plugin for the whole WordPress community. The great thing is it's free forever!
It sends emails faster and more securely using a direct email service API. That means the emails are sent from the provider's direct API, ensuring email deliverability in real time. The SMTP Email plugin has a user-friendly interface allowing users to effortlessly set up their emailing service.
You can keep track of every single email sent from your site using its email logging feature. It's really helpful for storing emails, and as long as you have your emails stored in the email log, you can send them again to your users in case they don't get the first one:
With FluentSMTP, you can efficiently connect to highly popular transactional email sending services that'll work simultaneously, including:
Amazon SES
Gmail
Outlook
Mailgun
SendGrid
Sendinblue
SparkPost
Pepipost
Postmark
And all other SMTP.
FluentSMTP has a unique feature to blow your mind! With the multiple email routing feature, you can use multiple SMTP servers on a single site. A handy feature especially if you are using WordPress email marketing plugins to send out marketing emails.
Another amazing feature FluentSMTP has is email fallback. If the main SMTP server crashes, the option to fall back to a second SMTP provider will make sure your email gets delivered no matter what. With FluentSMTP, email delivery failure days are now a thing of the past.
FluentSMTP also offers an email reporting feature. This helps you get a precise visual analysis of emails that your site sends out every day. This detailed report will be presented to you as graphs and charts.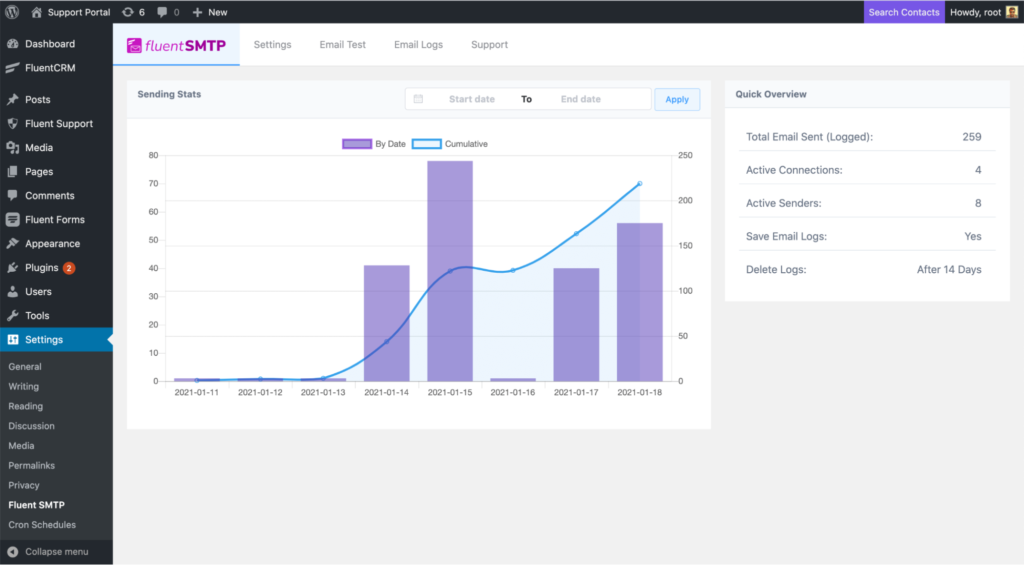 Pricing
As we have said before, FluentSMTP comes totally free of cost. It is free now, and it always will be. No doubt, it is the most feature-packed and well-supported WordPress SMTP plugin.
Pros:
Connects with all popular email services
Multiple SMTP routing – you can use multiple email services simultaneously
Sends emails quickly and securely
Detailed reporting and storing emails
Email Fallback – emails can be routed from other SMTPs if one fails.
It works with WordPress Multisite
Free forever!
Cons:
There aren't any real drawbacks to using FluentSMTP. It's far better than any premium WordPress SMTP plugin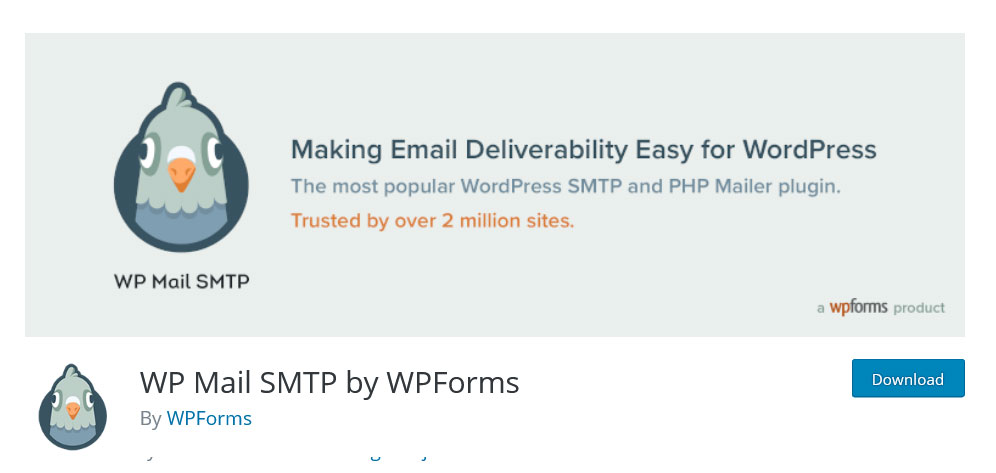 WP Mail SMTP comes with both free and pro versions. This plugin enables you to connect to any SMTP server by just inputting its details. Additionally, you can also use the APIs of some of the most widely used SMTP providers, such as:
SendinBlue
SendGrid
Mailgun
Gmail
The interface is simple and nicely designed, so it's easy to see the options you can access.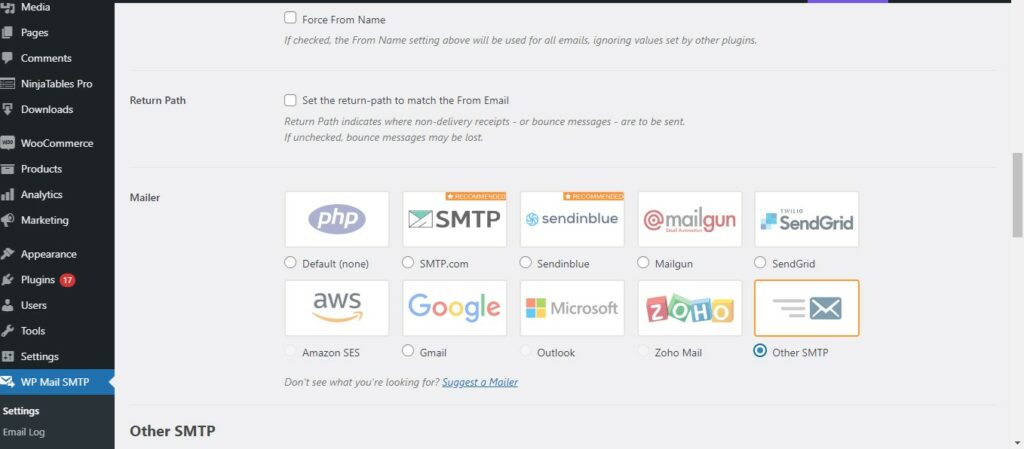 To check if your chosen configuration is working correctly or not, you can send a test email also.
The Pro version includes detailed email logging, the ability to manage your WordPress site's notification emails, and support for other email service platforms such as:
Office 365
Amazon SES
Zoho
Pricing
WP Mail SMTP is a plugin that comes with both free and premium versions. You can go with the free version with limited features. It also comes with four premium plans that start from $49 if you want to go all out. It's worth mentioning that all premium plans come with a 14-day money-back guarantee. So, if the plugin isn't a good fit, you can ask for a refund.
Pros:
Supports major SMTP email services
Nice and simple UI
A 14-day money-back guarantee
Allows you to enable or disable SMTP authentication
Cons:
The free version comes with limited features
Also Read: WP Mail SMTP vs. FluentSMTP: SMTP Plugins Compared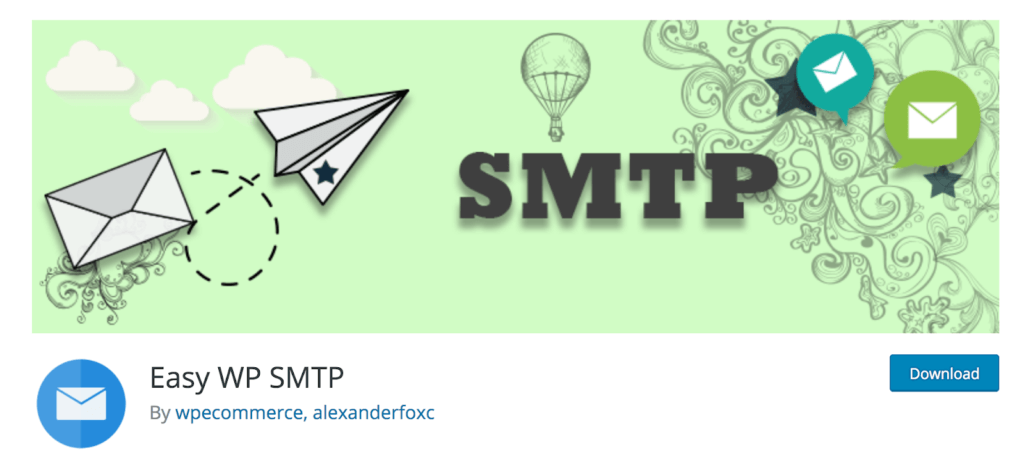 Check out Easy WP SMTP if you're seeking for a simple SMTP plugin for your WordPress site. The SMTP Email plugin has a user-friendly interface that helps users configure their emailing service efficiently.
Easy WP SMTP is a great plugin for experienced WordPress users. It comes with a lot of features and only takes a few minutes to set up if you're a techie person.
It also lets the users set up popular email service providers such as Gmail, Yahoo, and Outlook as their default SMTP servers. After installation, it configures a new settings panel for the WordPress dashboard, making it simple to set up and integrate this SMTP server. 
The plugin includes a debug logging function that helps to keep track of every email to ensure that they're being delivered properly. Many SMTP services provide this feature; however, with Easy WP SMTP, you can see it right from your WordPress dashboard instead of needing to log into the SMTP server account.
Another useful function is Import and Export, enabling you to simply configure the same information across multiple sites. With this feature, you may easily export your SMTP settings and import them on as many websites as you like.
Pricing
There's no room for any doubt as the pricing is clear cut… Absolutely free! It doesn't get any more simple than that.
Pros:
Provides SMTP integration with popular SMTP services like Gmail, Yahoo, and Hotmail
Debug logging
Export and Import SMTP configuration
Cons:
Any direct integration with email service providers is unavailable
Provides limited support for Microsoft and Amazon SES SMTP
6 Best Easy WP SMTP Alternatives for WordPress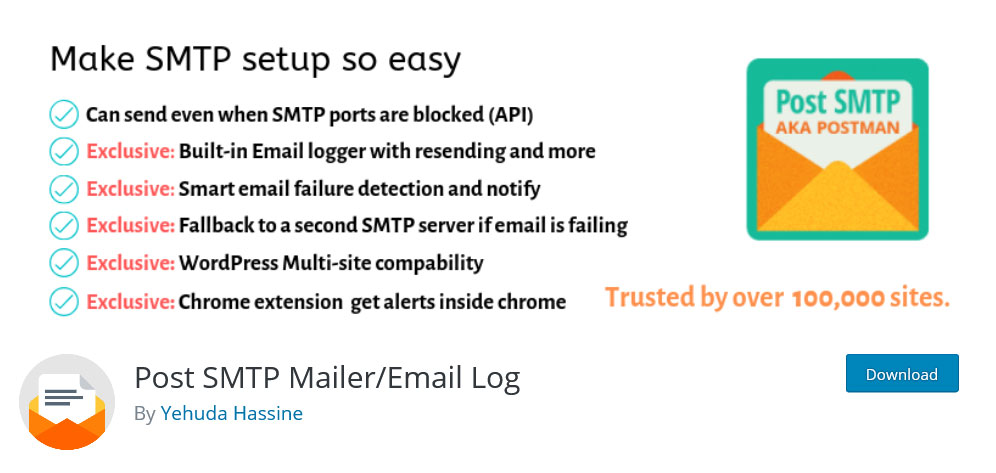 The resurrected and updated version of Postman SMTP Mailer is Post SMTP Mailer. Postman SMTP was well known before its original developer suddenly discontinued supporting it and WordPress.org removed it due to an unresolved security vulnerability. 
Post SMTP Mailer connects to any SMTP server and has a useful setup wizard that makes the setup process as simple as possible: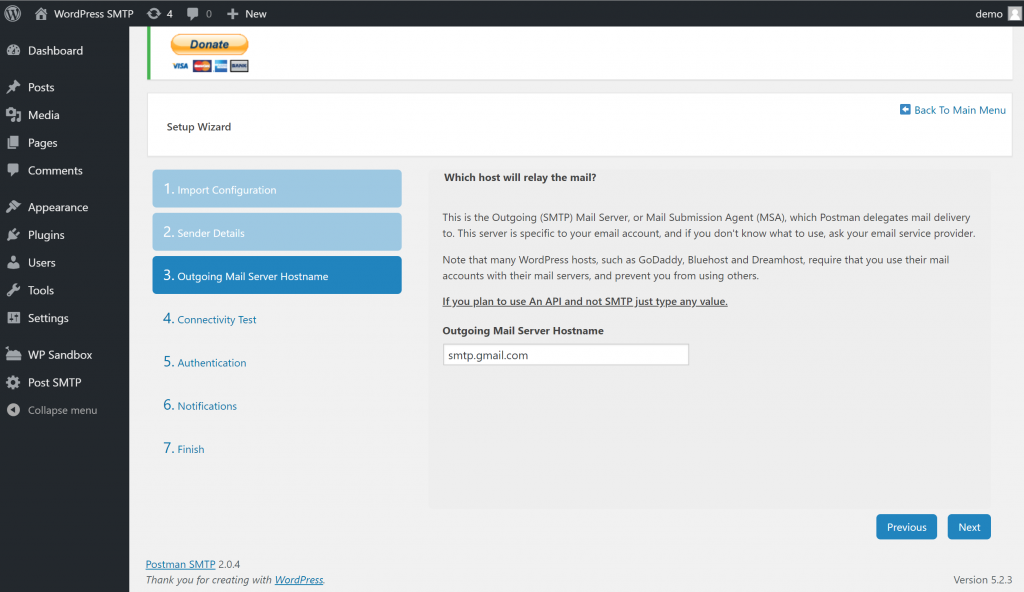 One unique feature is that, besides simply entering your SMTP server information, the plugin can also assist you in connecting through API to some renowned sending services, such as:
SendGrid API
Gmail API
Mailgun API
Mandrill API
It has a unique feature called email fallback. This functionality allows you to use an alternative SMTP server if the main email service provider fails to deliver an email. This means that your emails will no longer fail to reach the inbox of your audience. It also has a built-in email logger that helps you keep track of which emails your WordPress site sends out.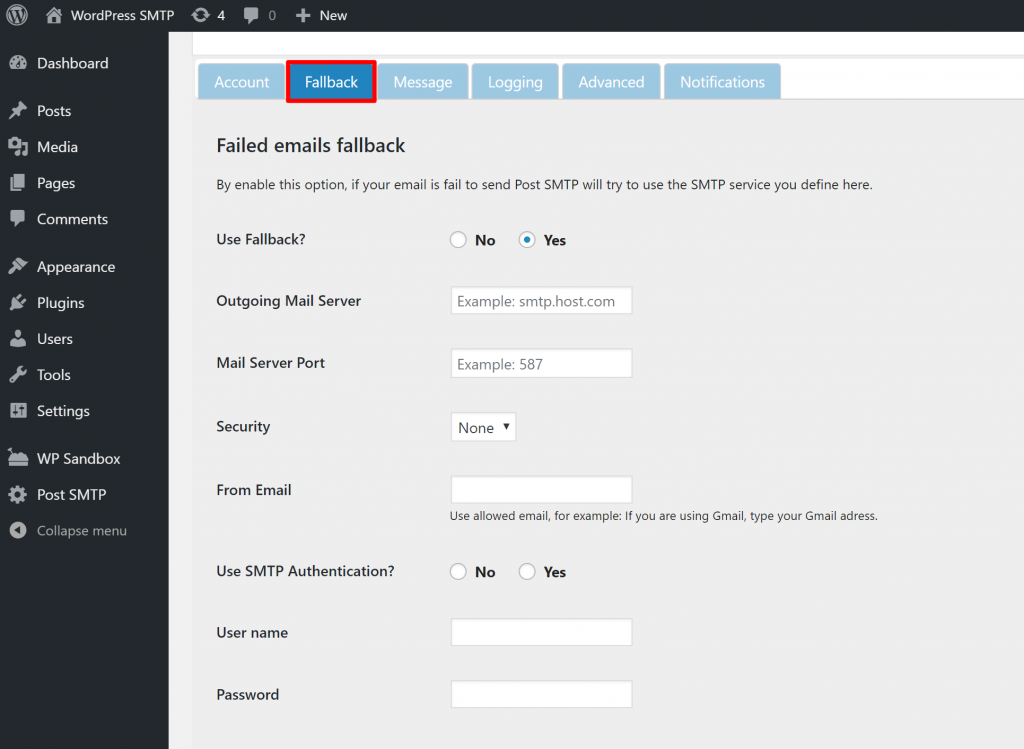 So if you want to connect through API or simply prefer a bit more configuration logging freedom, this one could be the better alternative.
Pricing
There's nothing much to say about the pricing as it's completely free. It's an excellent plugin for folks for free.
However, like all other SMTP plugins, you have to pay for the SMTP service, which varies in price based on the service you choose.
Pros:
It works with all of the major SMTP email service providers 
A backup fallback SMTP server to use if the central SMTP server crashes
Post SMTP Mailer offers support for third-party APIs that include Mailgun, Mandrill, Gmail, and SendGrid 
For extra security, it supports SSL and TLS encryption
Cons:
To use it, users must depend on third-party SMTP service providers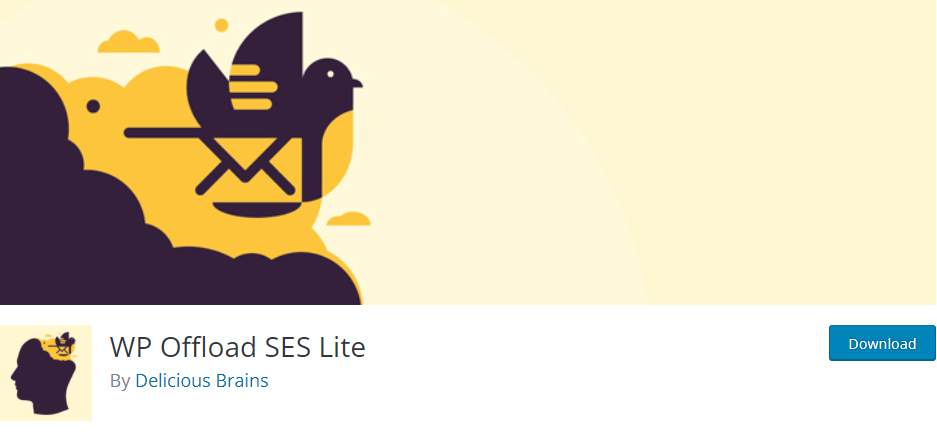 WP Offload SES is a handy plugin if you want to integrate Amazon SES into your WordPress site. Apart from Amazon SES, this tool doesn't support any other email service. Why? Because Amazon SES is the most cost-effective and reliable option. The integration is similarly straightforward: simply copy and paste the API keys and you're done. 
The free version of this plugin includes a lot more features, such as:
See statistics on your email send rate in SES
You can send domain and email address verification requests to AWS right from your WordPress dashboard
Support for multiple WordPress sites
Email click/open reports, the option to queue emails to manage SES sending limits, and email support all are included in the premium version of the plugin.
Only the premium version of WP Offload SES allows you to retry failed email deliveries. You can either set up the plugin to perform this automatically or manually resend failed emails.
Pricing
WP Offload SES is a freemium plugin. You can download the free version with limited functionalities from the WordPress repository. The premium version offers all the features and support. A single site license costs $59/year (normally $99/year) and includes one year of upgrades.
Pros:
A dedicated "return path" can be set to handle bounced emails
Attempt to deliver the email again if it was not delivered the first time
Build a personalized "Reply-To" and "Return-Path" address
See a list of all the emails sent from your website
Cons:
Doesn't support any other email services except for Amazon SES
Has limited functionalities in the free version
Honorable mentions
Gmail SMTP, as the title implies, aims at helping you in connecting to a particular SMTP server – Gmail. Give this one a try if you want to send emails through Gmail.
Being different from other plugins, Gmail SMTP requires more than simply your login details. Rather the plugin needs OAuth 2.0 for authorization.
This levels up the security but for that, you'll have to do some primary setup tasks in the Google Developer Console before you start using it. However, no worries – the developers give thorough instructions to guide you through setting up all essential credentials.
Pricing
Gmail SMTP is an open-source plugin. Anyone can use it for free.
Pros:
Allows you to set up an app using Google Developer Console
It can be used to set a redirect to a website's URL
To improve the security of user data, it implements the OAuth 2.0 protocol
Cons:
A daily limit of 150 emails is included in Gmail's regular plan. When compared to the free plans offered by other SMTP providers, this is a strict cap.
Wrapping Up
One of the most effective quick solutions for emails with deliverability issues is using a WordPress SMTP plugin. If you're facing difficulties, it surely won't hurt to try one of these suggestions to see if it helps you get back on the correct path.
We hope this article has helped you find what you were looking for, and if you have any other suggestions or views regarding this topic, please share them in the comment section.
Safe and secure traveling to all your emails!