5 Best WordPress Email Marketing Plugins to Skyrocket Your Business
Ever since the journey started, WordPress has become so much more than just a content management system. It's now home to some of the most prolific businesses in the history of eCommerce.
That being said, WordPress is not enough for businesses especially when it comes to emails. Yet WordPress is the most important platform for businesses.
Now, how do eCommerce businesses rely on email marketing with WordPress?
– Email Plugins!
WordPress has a ton of them available and some great ones are free! This brings us to this article, where we'll be looking at the best WordPress email marketing plugins in 2022, most of which are free!
Ready?
Let's begin!
Choosing WordPress email marketing plugins
Yes, you want the list, we know. But what good is a list if you don't know what to pick? So let's quickly run over the basics of what to consider as you choose the right plugins for your site.
When you say "Email Plugins," you're not saying much about what you need. Email marketing is a complicated balance of a lot of moving parts. So you need to pick which part you need to handle. Then comes picking the plugin that does that job.
Ask yourself this, do you…
Want to grow your email list?
Send marketing emails from your WordPress dashboard?
Create newsletters?
Ensure email delivery?
Send custom notification emails?
Each of these questions can have a different answer and no answer is 100% right. Email marketing is complicated and getting all of this in one place is tough.
Pricing also has a huge impact cause sending emails isn't free. So we've gathered some of the best email marketing plugins for WordPress that tick most of these boxes while being free!
What kind of WordPress email plugin should you choose?
Since you'll be sending emails with these plugins, two things to ask are-
How does the routing work?
And…
What type of database is the plugin working with?
Apart from these, a third question might be, how the plugin itself works?
Routing is necessary for WordPress emails because the default .php routing causes your emails to end up in the spam hole. For example, notification emails from contact form 7 don't send unless you don't fix WordPress email deliverability.
Some plugins focus strictly on this aspect while others give you a roughed-out solution that isn't always reliable.
In the database argument, you have to consider how the email automation/contact management system stores data. While third-party storage was the norm, more and more businesses are picking up self-hosting. It all depends.
When considering the plugin itself, you have to consider if the plugin is the email marketing solution on its own or if it is just an API to a cloud service. This factors into a lot of nooks and crannies in an email marketing strategy. This is not the place to address that issue though.
General considerations for email plugins:
Price
Support
Updates
User Interface
Etc.
With that in mind, let's get to the 5 best WordPress email plugins!
Top 5 WordPress email marketing plugins in 2021
While the list here showcases the best WordPress email marketing plugins, they are certainly not the whole story. You might need to get additional plugins or go premium. At the end of the day, it all depends on what you want to do with these plugins.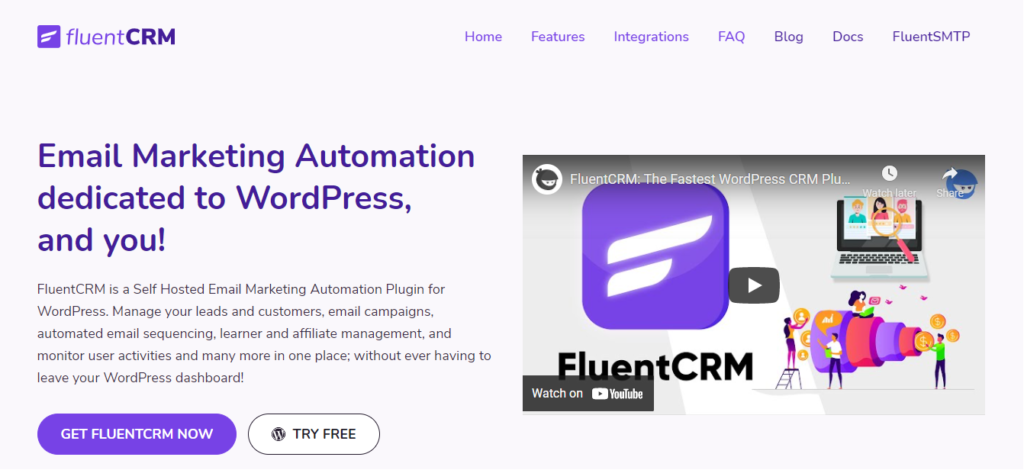 FluentCRM is a self-hosted email marketing automation plugin for WordPress. It functions right inside your WordPress dashboard letting you generate and segment leads, nurture them with personalized messages, and convert them into customers with efficient automation funnels.
Apart from the unique features (i.e Dynamic segmentation, conditional blocks), the best part of FluentCRM is it integrates with almost everything!
Considering how much small businesses depend on WordPress plugins, FluentCRM is a must-have for simply the number of integrations it supports. It lacks some conventional CRM functionalities but you can do without them (more or less).
Using FluentCRM in combo with FluentSMTP makes the setup unmatched. SMTP routing ensures all emails are sent while letting you check how they performed.
Pricing
FluentCRM is available for free at WordPress.org. FluentCRM Pro pricing starts from $129/Year for one site. All features are included with this price. No paywalls or capped functions. There are 5-site and 50-site annual packages available as well.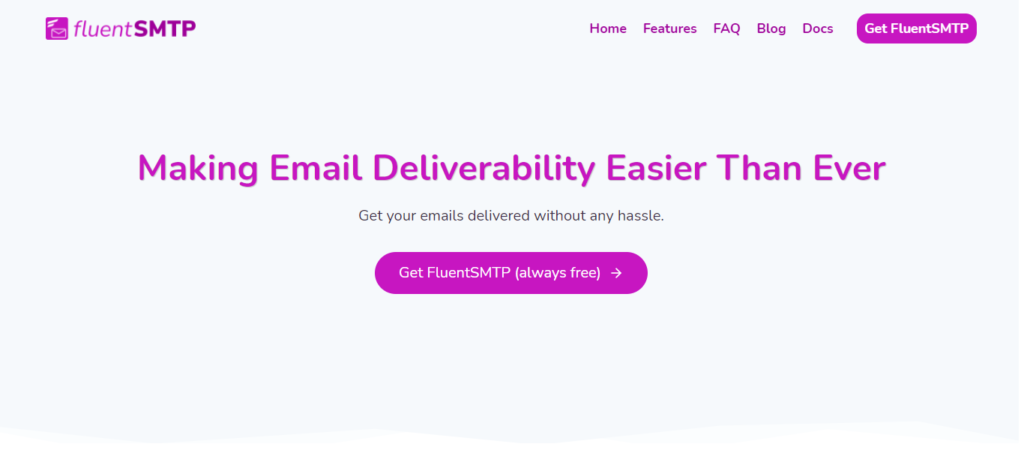 FluentSMTP comes from the same company as FluentCRM. You can consider FluentSMTP as FluentCRM's preferred routing system. It's a native WordPress plugin so you can fix it right from your dashboard.
FluentSMTP connects with a large chunk of email service providers like Mailgun, Pepipost, Amazon SES, etc. If your email provider is not on their list don't worry. You can configure email providers too.
With FluentSMTP you can rest assured that all your emails are delivered. What's more, FluentSMTP stores and displays your email logs, unlike other providers. No pay walls or anything of that sort.
The reporting is spot on with this plugin. All important data like delivery, clicks, etc. are stored and presented effectively. You can even resend failed emails with FluentSMTPs delivery reports for your emails.
Pricing
FluentSMTP is available for free at WordPress.org.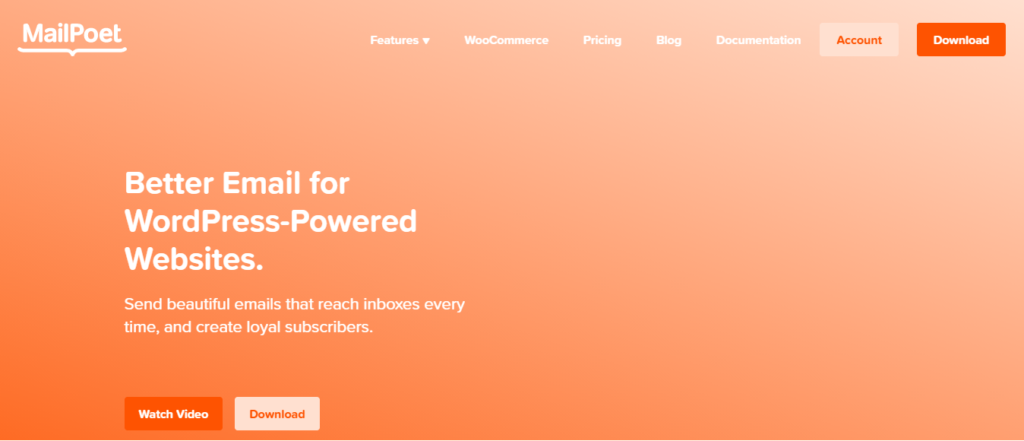 MailPoet offers an all-in-one solution for newsletters and email marketing. As the plugins before MailPoet is native and operate from your dashboard.
With MailPoet, you can create custom opt-in forms and pop-ups, manage your subscribers with one or more lists, send one-off or automated emails, and view reports to see how your emails perform.
For eCommerce stores, MailPoet also has a bunch of dedicated WooCommerce features. These include sending product recommendation emails, abandoned cart recovery emails, and more.
Finally, MailPoet includes its own built-in email sending service, without any configuration needed on your part.
Pricing
MailPoet is available for free at WordPress.org. If you want to use MailPoet's built-in email service, Premium is free for up to 1,000 subscribers with unlimited emails. Once you cross the 1,000 subscriber mark, the paid plans start at €13 per month.
The standalone MailPoet Premium plugin is also available. This starts at €149 for use on a single site.

Newsletter is another popular WordPress plugin that's dedicated to creating and sending newsletters.
Newsletter to create opt-in forms, add subscribers to lists, and then send them emails using a simple drag-and-drop composer. The features reminded us of MailPoet in some of these aspects.
A downside however is that Newsletter doesn't include its own sending service. So you'll need a dedicated service like SendGrid or Mailgun.
Pricing
The core Newsletter plugin is available for free. A bundle of all add-ons for $65 provides some advanced features. You'll also need a dedicated email sending service, which might cost additional money depending on the volume of emails.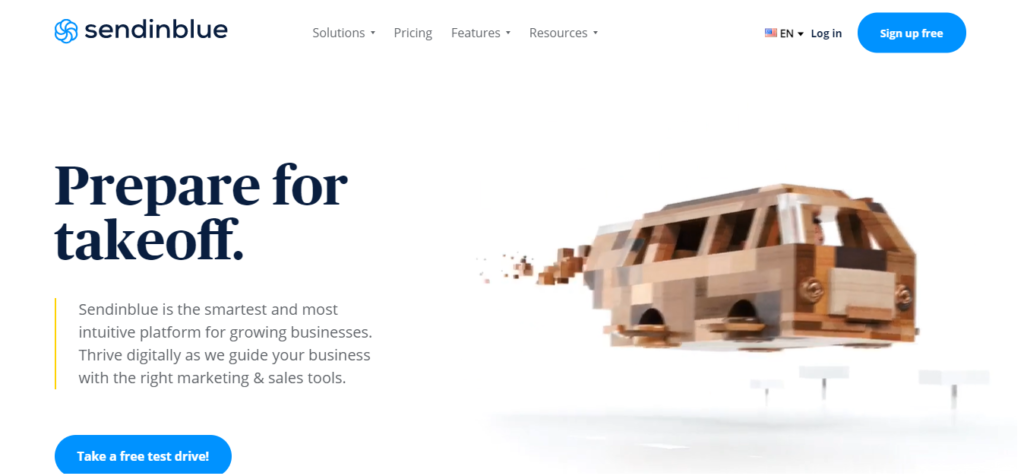 Sendinblue is a standalone email marketing service. Yeah, we know you're thinking about why they're on our list of plugins. The reason they deserve a spot on this list is that they provide one of the most detailed WordPress integration plugins on any email marketing service.
It's a complete solution for email marketing while providing other marketing tools such as a CRM, text messages, live chat, and even a landing page builder.
It's especially great for WooCommerce users because Sendinblue offers a dedicated WooCommerce add-on plugin.
Pricing
The Sendinblue plugin itself is free, but you'll need a Sendinblue account to use it. Sendinblue has a free tier that lets you send up to 300 emails per day to unlimited subscribers. Paid plans start at $25 per month.
Wrap Up
When it comes to picking the best plugins on WordPress, it's never straightforward. It's very easy to get lost in the jungle, so we thought this might be a good place for you to start.
But we know it's not enough to just give you a list to pick from. The important part is helping you ask the right questions in your quest to find the right plugin.
To finish up we'll recommend the FluentCRM and FluentSMTP combo setup. You can set up both these plugins and your email campaigns can be up and running in 30 minutes or less. Since they're both free, waiting is just a waste of time!
So go ahead and read our WordPress email marketing tutorial. Whether you're a beginner or an intermediate-level user, this tutorial is all you need!