Gravity SMTP: Initial Impression and Prospects for Improvement
Hello, dear WordPress enthusiasts! Today we are excited to extend a warm welcome to the newest member of the SMTP plugin family: Gravity SMTP!
Yes, you heard it right!
The creators of one of the most well-known WordPress lead generation forms, Gravity Forms, are now here to solve the WordPress email-sending issues! And, on behalf of the WordPress community, Fluent SMTP warmly welcomes Gravity SMTP in this battle.
Fluent SMTP understands the significance of seamless email sending within the WordPress ecosystem and serving over 100,000 businesses in combating email spam monsters! But today, we put aside our own achievements!
Today, we're writing to welcome a new warrior to the effort against these scary forces. Yes, we will discuss Gravity SMTP today!
But, before we get into Gravity SMTP, let's go over why SMTP plugins are fundamental to any website.
Why SMTP plugins are essential for WordPress email deliverability?
Email is one of the most important communication channels and is at the heart of any successful online presence! But, unfortunately, WordPress has some limitations in reaching its full email-sending capability!
WordPress is not the best choice for handling your email sending needs. And here are some of the main reasons why you shouldn't rely entirely on WordPress to send emails:
Email deliverability issues: Emails sent directly from WordPress face challenges reaching recipients' inboxes due to various factors, such as inconsistent server configurations, lack of authentication protocols, and the platform's reputation.
Email delays and sending limitations: WordPress is not specifically designed for high-volume email sending. This can lead to delays in email delivery, especially when dealing with a large email subscriber list.
Difficult to configure: Configuring WordPress to handle email sending can be complex and challenging, especially for users who've minimum technical knowledge.
Lack of stats and analytics: WordPress's native email functionality lacks comprehensive statistics and analytics features.
Learn: Why You Should Never Use WordPress to Send Emails
As a result, it is always better to use an external SMTP server to send your bulk emails. And, a WordPress SMTP plugin will assist you in connecting your WordPress website with an external SMTP server.
To be more precise, we can say, SMTP WordPress plugins are basically a bridge that connects email servers and your WordPress websites. Now, let's explore the key reasons why an SMTP plugin is a valuable addition to your WordPress website:
Why an SMTP plugin is a valuable addition to your WordPress website?
By using an SMTP plugin, you can use an external SMTP server to send emails. This separation ensures that your website's optimization and speed are not compromised.
Perfect for heavy email-related tasks
If you have plans for email marketing campaigns, an SMTP plugin becomes mandatory. It allows you to seamlessly connect WordPress to an external SMTP server. And it will ensure reliable email delivery even for large-scale operations.
SMTP servers are specifically designed to prioritize email deliverability. By leveraging an SMTP plugin, you can significantly improve your email deliverability.
External SMTP servers often provide cost-effective options, including free plans. And by utilizing an SMTP plugin, you gain access to these advantageous pricing options.
Fluent SMTP: A gift to the WordPress community!
Yes, you read it right!
We, WPManageNinja have been serving the WordPress community and small businesses for a considerable period of time. Our dynamic WordPress plugins, including Fluent Forms, FluentCRM, Fluent Support, and Ninja Table, have been instrumental in empowering thousands of small businesses.
Since our inception, our products have garnered immense popularity. The WordPress community has showered us with unconditional love and support. And as a user-centric company, we decided in expressing gratitude by offering a vital plugin for free, and thus Fluent SMTP was born!
Fluent SMTP has been an invaluable asset for businesses since 2021 —effortlessly resolving email deliverability issues without costing a dime. In a short span of just two years, Fluent SMTP has already crossed the remarkable milestone of 100,000 installations!
Let's now explore the remarkable features this dynamic plugin has to offer:
Effortlessly send any volume of emails: Fluent SMTP enables seamless delivery of emails to your users' inboxes via your configured SMTP server.
Multiple simultaneous SMTP connections: With Fluent SMTP, you can establish multiple SMTP server connections simultaneously. This functionality proves especially valuable when you rely on your WordPress site to send both marketing and transactional emails.
10+ native SMTP server integrations: Fluent SMTP has 10+ native SMTP server integrations, providing you with a swift and efficient SMTP experience. Compared to most SMTP plugins available today, this extensive range of native integrations is unparalleled.
Compatibility with any SMTP server: Fluent SMTP never restricts you based on native integrations alone. You have the freedom to connect with any SMTP server of your choice, ensuring flexibility and versatility.
Now, here comes the best part!
Fluent SMTP has always been free, remains free, and will continue to be free. We assure the community that this will not hinder our commitment to providing premium services and continuous improvement in the future!
Download the Most Powerful SMTP Plugin(100% Free)
Get the most powerful SMTP plugin for free and hit the recipient's inbox with your WordPress emails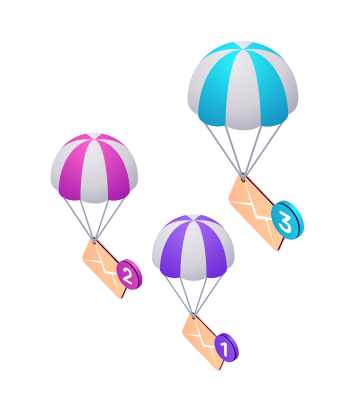 Gravity SMTP: initial impression and prospects for improvement
Gravity SMTP, although in its beta stage, shows promise as a potential problem solver for email-sending issues. While there is room for improvement, let's take a closer look at what we've discovered during our initial assessment:
Integrations
Gravity SMTP allows for seamless integration with email providers. However, at this early stage, it is only integrated with SendGrid and Postmark. We anticipate that in the future, they will expand their integration to encompass a wider range of important email service providers, as Fluent SMTP does.
Test email sending feature
Similar to Fluent SMTP, Gravity SMTP includes an email deliverability test feature. After connecting with an email provider, you can test your SMTP settings by sending a test email.
Detailed statistics
Gravity SMTP offers detailed statistics for your email campaigns. This feature will enable you to easily track the emails sent from your website, providing valuable insights into the performance of your email campaigns.
User-friendly interface
Gravity SMTP boasts an appealing user interface. The plugin's dashboard is visually pleasing, with a simple and colorful design. This intuitive UI would enhance the user experience and ensure a pleasant interaction with the plugin.
Pricing
Unfortunately, there is a downside when it comes to pricing. Gravity SMTP beta is currently available only as part of the Gravity Forms bundle. To access it, you would need to purchase the Elite License plan which costs $259 per year. This pricing structure might disappoint potential users who are looking for a standalone SMTP plugin without the need for additional features.
Our thoughts on Gravity SMTP
Given its early development stage, it is too soon to draw definitive conclusions about Gravity SMTP. There are still aspects that require attention and refinement. We hope to see Gravity SMTP integrate with more email service providers to offer users greater versatility.
Additionally, it would be beneficial if Gravity SMTP were available as a separate plugin rather than bundled with Gravity Forms, as the current pricing of $259 per year might be prohibitive for some users.
To summarize, Gravity SMTP shows potential but has areas for improvement. We eagerly anticipate further developments and enhancements that will bring added value to users' email-sending experiences.
Gravity SMTP, thank you for joining the community efforts!
Here at WPManageNinja, helping the WordPress community is one of our priorities! Since our inception, we have been actively working to address existing WordPress problems and make it a better platform for WordPress enthusiasts every day.
We understand the importance of a seamless email delivery experience for WordPress users. And that's why we've created Fluent SMTP and made it available to all users for free.
However, today, it's time to welcome a new warrior. We believe that Gravity SMTP will precisely target users' pain points, provide effective solutions, and bring true value to their lives.
Fluent SMTP wholeheartedly wishes Gravity Forms the best of luck. Let's stand united in our mission to ensure that every email sent through our favorite platform reaches its intended destination.
Let's conquer the realm of email deliverability together!