Why You Should Never Use WordPress to Send Emails
Just like everyone else, we too like the idea of open source and free software. And specifically, we love WordPress. It's an excellent platform that lets anyone build a robust site compatible with all devices and optimized for the updated web in general. However, WordPress is not a one-size-fits-all answer.
WordPress has a built-in emailing feature that sends emails using the PHP mail function. But should you use WordPress' built-in system to send out emails?
You shouldn't!
Why?
Firstly, because WordPress isn't reliable when it comes to sending emails, and secondly because it isn't the right way! In this article, we'll explain whether you should send emails using WordPress so you can figure out where to put your marketing efforts.
Ready?
Let's begin!
Email deliverability issues
If you send your emails using WordPress' native email system, chances are all the emails you send to your audience will end up in your user's SPAM folder or may not get delivered at all.
For instance, the email server that receives your email will check for an SPF record to see if the server delivering the email is authorized to do so. To rule out spam, it will search for unusual behavior, keywords, and phrases.
The spam filter will check their databases for your IP address. Your website shares an IP address with multiple other websites when you use shared WordPress hosting.
Any sign of misuse by a single person on that server can trigger spam-catching databases, putting your email delivery in jeopardy. There's a slew of other elements that spam-catching algorithms look for, and satisfying all of them is difficult.
On the contrary, transactional email service providers work around the clock to ensure email deliverability. They stick to a tight set of rules that they apply to all of their sending emails to ensure they reach the desired destination instead of ending up in spam folders.
To make this feasible, they have a team of highly skilled engineers, developers, and support workers working tirelessly. When a recipient's email server gets an email from a white-listed server, they may rest assured that it is genuine and not spam.
The fact that a transactional email marketing service is a lot more RELIABLE should be enough to persuade you to use it!
Email delays and sending limitation
Your hosting provider usually limits the number of emails you can send at once. Although WordPress may attempt to queue outgoing emails, there is always the possibility that something may go wrong, and your outgoing email queue will never be processed. If you have a massive email list, your web hosting can see this as a misuse of their services.
On the other hand, you won't have to worry about these limits if you choose a transactional email service provider because they have servers worldwide to send thousands of emails every day. You'll be easily able to upgrade your plans as your email list expands since email service providers offer flexible plans.
Difficult to configure
Email marketing platforms make it simple to create and send emails to your subscribers. It comes with a clean interface and super easy-to-use tools that help you create your emails. The features come together to make email marketing an effortless job. They also have API integration to build your email list with other handy WordPress plugins like WooCommerce and Fluent Forms.
If you're trying to do the same with WordPress, you'll be wasting time striving to do tasks that can be accomplished in minutes with a proper email marketing tool.
Lack of stats and analytics
If you invest in a professional email sending service, you'll get complete analytics and statistics about your campaigns. You can see how many emails have reached your user's inbox, the number of opened emails, and how many clicks you've got. As a result, you can improve and fine-tune your email campaigns.
When using WordPress for sending out your newsletter, you have no means of knowing how many emails made it to the user's inbox, were opened, or clicked. You'll have to put a significant amount of time and effort into integrating Google Analytics into your landing pages and campaigns. However, the data you'll get will still be limited.
You'll be benefitted in many ways if you use a wordpress email marketing plugin. They provide reports and analytics, which are essential to run an effective campaign. If your emails are being labeled as spam, you can find out what's triggering the spam checker to flag your emails.
Compliance issues
Spam and email marketing are both big businesses. ISPs and email marketing services have established and executed new legislation, regulations, and protocols to tackle spam. None of these issues will be a concern for you if you use a professional email service provider to send out your newsletter.
On the contrary, if you send your own newsletter using WordPress, you're less likely to be aware of breakthroughs in the field of email spam protection.
Budget-friendly
Some people might feel that setting up an email service provider isn't worth their time and money. Consider how awesome it would be if you can send custom follow-up emails just after someone signed up on your website or purchased a product. You can send perfectly-timed, relevant emails to send blog post notifications or sell and upsell products, without ever leaving your website!
Frankly speaking, most email sending services cost about a dollar for a thousand emails. If you put effort into building a proper email list, your email list would be paying for itself. That way, not only you'll have a list to drive traffic back to your website, you'll also build a foundation for growing your business.
For building a list and promoting your product, you can try FluentCRM. It's one of the best free email plugins that allows you to do complete email marketing within WordPress. Using FluentCRM, you can create MailChimp-like email campaigns and email marketing automation funnels.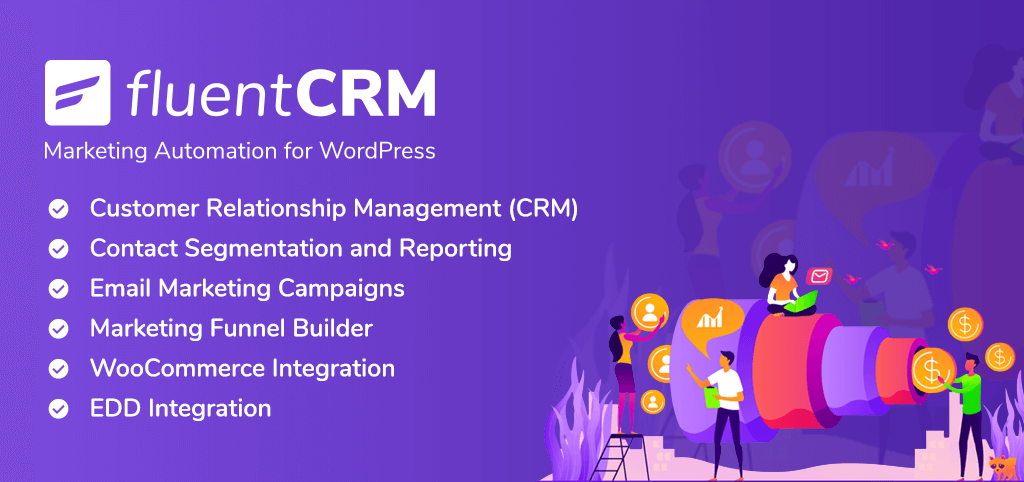 So go ahead and give it a try, you won't be disappointed!
Conclusion
As you can see, we don't recommend WordPress when it comes to sending emails. In our opinion, it is far better to configure one of the specialized ESP's that perfectly meets your needs, even if you need to pay for it initially.
When it comes to sending emails, deliverability is a big issue. That is why we recommend that you use third-party SMTP services like Amazon SES, MailGun, SendGrid, Sendinblue, etc. And to set them up for email sending with WordPress, you can use FluentSMTP, which is absolutely free of cost and takes about a few minutes to configure.

With FluentSMTP, you'll also enjoy some attractive features like email logging, multiple SMTP, email fallback, and so on!
To get started, simply choose an email service provider and follow our documentation to configure your service for sending WordPress emails. And if you need any technical assistance, simply leave a comment below!