10+ Best WooCommerce Plugins to Grow Your Online Store
WooCommerce is the leading online platform designed for businesses of all sizes. With over 5 million active installs, WooCommerce offers a robust set of features and tools to help you build and manage your online store with ease.
However, if you want to grow your online store and stay ahead of the competition, you need to take advantage of additional plugins that extend the functionality of WooCommerce.
In this article, we'll highlight the top 10 best WooCommerce plugins to grow your online store and make your online store more versatile.
Benefits of Using WooCommerce Plugins
WooCommerce is a powerful and flexible plugin yet it requires something more to grow your online business. WooCommerce Plugins provide extra features and functionality to turn your WooCommerce store more functional.
The right selection of plugins helps you to take your eCommerce business to the next level. Here are some of the key benefits of using WooCommerce plugins:
With the use of WooCommerce plugins, you can customize your online store to match your unique business requirements
You can add new features and functionalities by using WooCommerce plugins based on your specific needs even without having coding knowledge
WooCommece plugin increases customer satisfaction and builds a loyal customer base by enhancing User Experience
There are several WooCommerce plugins available that can help with marketing and improving search engine optimization (SEO)
By generating detailed reports and analytics, plugins can offer valuable insights into the performance of your store
Some WooCommerce plugins usually have security features that protect your online store against possible threats and attacks
You can offer multiple payment gateways and shipping options to your customer by adding a WooCommerce plugin to make the checkout process more convenient
WooCommerce plugins are beneficial tools to improve the performance and shopping experience of your online store while also enhancing sales and revenue growth. They offer helpful solutions that can be advantageous for businesses of all sizes, from small enterprises to larger ones.
10+ WooCommerce plugins for growing your online store
Now that you know the benefits of using WooCommerce plugins, let's go over some of the best one's to grow your online store!
ShopLentor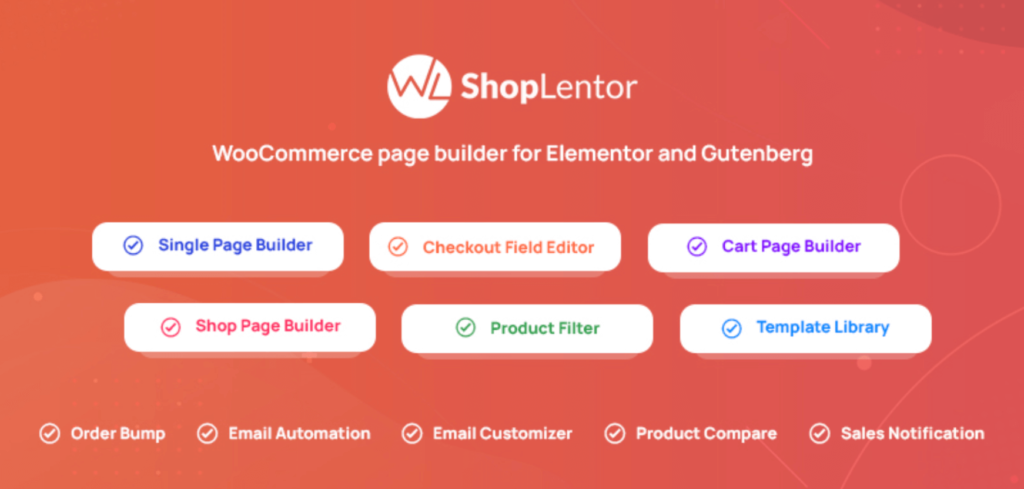 ShopLentor is a powerful WooCommerce plugin that allows you to create stunning websites without any coding knowledge. With over 105 Elementor widgets and 54 Gutenberg blocks, customization becomes effortless. The plugin also offers 24 advanced modules, eliminating the need for multiple WooCommerce plugins.
It seamlessly integrates with Elementor and Gutenberg, providing a user-friendly experience. You can choose from a wide range of pre-made templates and enjoy professional customer service support. ShopLentor is packed with common and advanced features like Wishlist, Product Filter, Product Comparison, and Quick View, making it a valuable tool for enhancing your WooCommerce store.
Top key features of ShopLentor:
Pre-designed page templates.
Multistep Checkout Process.
Email Automation.
Email Customizer.
Checkout Field Manager.
Partial Payment.
Order Bump.
Shopify Style Checkout.
Sales Notification.
Pre-Order.
Back Order.
Pricing plans:
Plus: $49 yearly and $149 for lifetime
Elite: $159 yearly and $259 for lifetime
Agency: $299 yearly and $599 for lifetime
Bundle: $499 yearly and $699 for lifetime
FluentCRM
FluentCRM is a comprehensive and feature-rich CRM and email marketing solution for WordPress. It offers a wide range of tools to manage customer relationships, build email lists, run email campaigns, create funnels, and boost your conversion rates.
With FluentCRM, you can streamline your marketing efforts and increase your profitability. It is not only powerful but also incredibly user-friendly, making it the fastest and simplest CRM and marketing plugin available for WordPress. Best of all, it offers a free version, allowing you to enjoy its benefits without any cost.
Key features of FluentCRM:
All-in-One Email Marketing Solution
Customer Relationship Management (CRM)
Contact Segmentation and Reporting
Email Marketing Campaigns
Email Sequencing
Newsletter & Recurring Campaigns
Marketing Funnel Builder
Granular Reporting
35+ Integrations
Pricing Plan:
Compared to ShopLentor, FluentCRM's pricing plans are notably higher. You can try their free version as well.
1 Site License: $129 annually
5 Sites License: $249 annually
50 Sites License: $499 annually
ShopReady
ShopReady WooCommerce Plugin is a comprehensive solution for creating eCommerce websites from the ground up that is capable of handling large-scale marketplaces with heavy traffic and large collections of products. Previously, WordPress users would've been required to install multiple plugins to get a functional online shop up and running.
But that is no longer the case; ShopReady has essentially eliminated the need for installing multiple eCommerce plugins by bringing in multiple different functionalities under one multi-purpose plugin that specializes in creating shop pages with all the necessary tools, pages, and layouts.
ShopReady has broken down its most important and complicated features into separate modules and widgets. This makes it easy for users to find their way around the plugin using the Elementor builder interface, which also makes it easy to change things and make new pages.
ShopReady Key Features:
Variation Switcher
Currency Switcher
Product Comparison Block
Sales Notification
Included Elementor Template Library
Preset Importable Themes
Flying Cart
Sticky Cart
And so much more.
Pricing Plan:
Single Site License (1 site): $30 yearly and $75 for a lifetime
Agency License(10 sites): $69 yearly and $199 for a lifetime
Unlimited License (Unlimited site): $199/yearly and $349 for a lifetime
WooCommerce Bookings and Appointments
WooCommerce Bookings & Appointments by PluginHive is a versatile plugin designed to help you transform your Time, Products, or Services into easily bookable resources. With this WooCommerce Bookings plugin, service providers and businesses of all kinds can seamlessly integrate a powerful booking solution into their WooCommerce website.
It is one of the affordable plugins that offers a comprehensive suite of features to fuel your online booking business. It's fully compatible with WPML, seamlessly integrates with your Google calendar, and includes a range of free add-ons to further extend its functionality.
If you're in search of a user-friendly booking solution, give this feature-rich plugin a try!
Key Features of WooCommerce Bookings:
Single, multiple, and mixed bookings per minute, hour, day, and month
Email notifications and reminders to customers
Request bookings confirmation from store owner
Seamless synchronization with Google Calendar
Staff management capabilities
Set preparation time between bookings
Easy handling of individual or group bookings
Support for partial payment and recurring bookings with compatible add-ons

Pricing Plans
Single site license $99 / year
5 sites license $149 /year
25 sites license $259 /year
Ninja Tables
If you're looking for a WordPress table builder plugin that simplifies the process of creating stunning and responsive tables, look no further than Ninja Tables. With this powerful plugin, you can easily create various types of tables for your website without the need for any coding knowledge.
Display unlimited product details, create pricing and comparison tables, or organize student and employee data with ease. Customize the tables with filters, colors, and layouts to suit your needs. Boost customer engagement and drive sales with Ninja Tables.
In just a few minutes, you'll have professional-looking tables that meet your specific requirements.
Key features of Ninja Tables:
WooCommerce Product Tables
Google Sheets Auto-sync
Easy Drag & Drop Tables
Table Design Customization
Import-Export file feature
Pricing Plan:
Single Site License (1 Domain): $59 yearly and $247 for lifetime
Agency License(20 Domain): $97 yearly and $399 for lifetime
Unlimited License (Unlimited Domain): $224/yearly and $599 for lifetime
WooCommerce Cart Abandonment Recovery
The WooCommerce Cart Abandonment Recovery plugin is a powerful solution to tackle the issue of cart abandonment in your WooCommerce store.
This plugin works by capturing the email addresses of users who abandon their carts during the checkout process. Once the email is captured, the plugin automatically initiates a series of follow-up emails that are customizable according to your brand's requirements.
These follow-up emails are strategically sent to remind customers about their abandoned carts and encourage them to complete their purchases. You can also include personalized offers or discounts to entice customers to finalize their transactions.
By leveraging this plugin, you can effectively recover lost revenue and improve your conversion rates by targeting cart abandoners and providing them with a compelling reason to return and complete their purchase.
Key features of WooCommerce Cart Abandonment Recovery plugin:
Unique Checkout Links
GDPR Compliance
Ready Templates for Follow-up Emails
Webhooks Integration
Coupon Code Generation
Comprehensive Reports to gain insights.
Pricing Plan:
CartFlows Inc has various pricing plans created for nonprofit organizations that have different sizes and requirements. The WooCommerce Cart Abandonment Recovery plugin's basic version is free and has essential functionality.
Customer Reviews for WooCommerce
The Customer Reviews for WooCommerce plugin is designed to help you boost your business by leveraging customer feedback and social proof. It enables you to automatically send personalized email reminders to customers after their transactions, encouraging them to leave reviews.
Additionally, the plugin enhances the standard WooCommerce reviews by offering extra features and includes a Q&A section on product pages to address customer questions. By utilizing this plugin, you can increase engagement, build loyalty, improve SEO, and ultimately drive more sales by leveraging the power of customer reviews and social proof.
Key features of Customer Reviews for WooCommerce:
Automated or Manual Review Reminder Emails
Manual Review Reminders via WhatsApp
Aggregated Review Forms
Enhanced Reviews
Offer Discounts for Reviews
Integration with Google Shopping
Question and Answer Feature
Pricing:
The essential features of the plugin are available for free to enable budget-limited organizations to access them.
Fluent Support
Fluent Support simplifies WordPress support ticketing, offering superfast, reliable, and efficient customer assistance. With over 5,000 active installations in just a year, this plugin's intuitive interface and comprehensive features keep you organized. Moreover, it saves time managing support staff, allowing you to focus on other essential activities.
Key features of Fluent Support:
Automatic Agent Assignment
Unlimited tickets
Instant loading with superfast SPA
Automated reply
Private note-taking for agents
Automated workflow
20+ integrations
Email piping
Email CC
Advanced conditional filtering
Priority support
Custom field
Pricing Plan:
Fluent Support provides reasonable pricing with no complexity compared to other helpdesk plugins. You can also test out the free version.
Single Site License (1 Domain): $103 annually
Agency License (5 Domains): $199 annually
50 Sites License (50 Domains): $319 annually
Support Genix
Enhance your customer service experience with Support Genix, the ultimate WordPress support ticket plugin. Manage and monitor ticket requests efficiently from a centralized dashboard. Benefit from unlimited tickets, agents, and users, as well as seamless task delegation and collaboration between departments.
Stay organized and responsive with features like email piping, WooCommerce integration, email notifications, Webhooks, agent control, and ticket transfer. Trust Support Genix to be your reliable customer service solution in today's dynamic business landscape.
Key features of SupportGenix:
Unlimited Ticket Management
Advanced Email Piping
Seamless WooCommerce Integration
Efficient Ticket Management
Customizable Email Notifications
User-Friendly Platform
Excellent Customer Support and Documentation
Pricing Plan:
Support Genix provides users with two versions- the Free version and the Pro version. Users who opt for the Pro version will have unlimited access to tickets, users, and business email piping. Additionally, they will receive 1-year of support and updates. This package is both comprehensive and affordable, so make sure not to miss out on this opportunity.
Personal: $59 yearly and $99 for lifetime
Developer: $99 yearly and $199 for lifetime
Agency: $149 yearly and $399 for lifetime
OptinMonster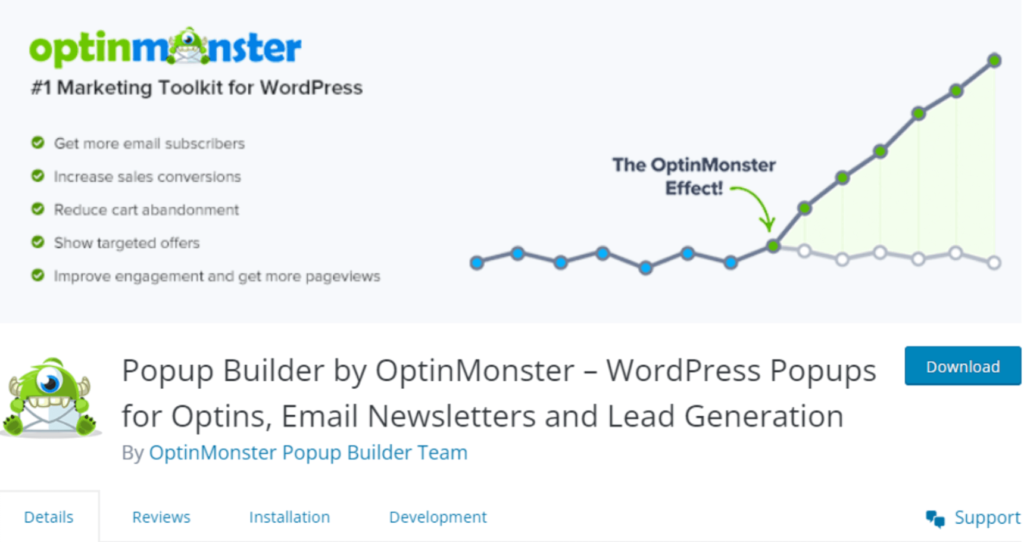 OptinMonster is a powerful popup builder and marketing plugin designed to help you grow your business by capturing more email subscribers and increasing sales. OptinMonster offers a user-friendly drag-and-drop builder that enables you to create highly optimized opt-in forms with high conversion rates.
By utilizing OptinMonster, you can effectively target the right audience with the right offer at the right time, resulting in the growth of your email list, increased leads, and boosted sales. This powerful tool helps convert website visitors into valuable subscribers and customers, addressing the challenge of visitor abandonment and maximizing your business's potential.
Key features of OptinMonster:
Drag-and-Drop Builder
Multiple Form Types
Exit Intent Technology
OnSite Retargeting
OnSite Follow-Up Campaigns
Page Level Targeting
A/B Split Testing
Pricing Plan:
OptinMonster has different plans to choose from, including a free option and a paid option. The paid option offers more features and customization choices. The pricing starts at $9 per month but is billed annually. Packages are the following:
Basic: $9/ month
Plus: $19/ month
Pro: $29/ month
Growth: $49/ month
HT Easy GA4 ( Google Analytics 4 )
The HT Easy GA4 ( Google Analytics 4 ) WordPress plugin, developed by the HasThemes team, is designed to be helpful for those who want to integrate their WordPress site with GA4. GA4 is the latest version of the Google Analytics tool, allowing you to integrate data from both mobile apps and websites into a single GA Property.
For website owners and app developers, Google Analytics is a crucial tool for tracking and analyzing various data points. It provides valuable insights into customer behavior, user experience, online content performance, device functionality, and more. The HT Easy GA4 plugin ensures seamless integration with GA4, enabling you to monitor and understand your website or app data effectively.
Key features of HT Easy GA4 (Google Analytics 4):
Seamless integration
Unified tracking
Enhanced data analysis
Simplified setup
Comprehensive tracking options
Real-time reporting
Compatibility with other plugins
Reliable support and updates
Pricing:
The plugin's key features are free to use, making them accessible to organizations with budget limitations.
Whols
Whols is a powerful WooCommerce plugin designed to facilitate wholesale pricing for your online store. With Whols, you can create and manage wholesale prices for specific customer groups, allowing you to offer different pricing tiers based on customer roles or membership levels.
You can also implement wholesale pricing strategies effectively, attract and retain wholesale customers, and optimize your WooCommerce store for wholesale operations.
Key features of Whols:
Set wholesale prices for individual products or entire categories
Registration Fields Manager
Role-Based Pricing
Quantity-Based Pricing
Minimum Order QuantityDynamic Pricing
Pricing Visibility
User Registration
WooCommerce Integration
User-Friendly Interface.
Regular Updates and Support
Pricing:
The Whols plugin has a free version available. However, if you want to access premium features, pricing packages are the following:
Single website: $79 yearly and $199 for lifetime
5 websites: $149 yearly and $299 for lifetime
Unlimited websites: $249 yearly and $499 for lifetime
Pixelavo
Pixelavo is a user-friendly plugin that seamlessly connects your Facebook pixel to your online store. By utilizing the Facebook Pixel, you can gather crucial information about your store's visitors and create personalized Facebook advertisements.
With advanced tracking capabilities, custom audience creation, and retargeting tools, Pixelavo empowers you to enhance your marketing campaigns and drive more traffic and sales. Whether you're a beginner or an experienced marketer, Pixelavo provides the tools you need to optimize your Facebook advertising and grow your business.
Key features of Pixelavo:
Seamless integration with WordPress
Event tracking
Custom event tracking
Automatic event matching
Real-time event tracking
Exclude Roles
Product Feed
Multiple pixel support (Pro feature)
WooCommerce integration (Pro feature)
Exclude Bouncing Visitors
Pricing:
The Pixelavo plugin is available both for free and premium. The pro plan starts at $99.
Factors to Consider When Choosing WooCommerce Plugins
Choosing the right WooCommerce plugins for your online store requires careful consideration. Here's what you need to keep in mind:
Compatibility: Ensure that the plugins you select work well with your store's theme and other installed plugins to avoid conflicts and functionality issues.
Pricing and Support: Evaluate the pricing packages of the plugin, including whether it's a one-time purchase or subscription-based. Consider the value it provides in relation to the cost. Also, check available support options to ensure you can get support when needed.
Customizability and Flexibility: Look for plugins that offer a high level of customization and flexibility to meet your specific needs. Being able to personalize the plugin's settings, appearance, and functionality is crucial for aligning with your store's branding and requirements.
User Reviews and Ratings: Read what other users have to say about the plugins you're considering. Their experiences and satisfaction levels can provide valuable insights for making an informed decision.
Updates and Compatibility: Ensure that the plugin is regularly updated and maintained by the developer. This helps guarantee compatibility with the latest versions of WooCommerce and ensures ongoing bug fixes and feature enhancements.
Performance: Consider the impact of the plugin on your store's performance. Look for well-coded and optimized plugins that minimize any negative effects on loading times.
Security: Prioritize plugins from reputable developers that follow security best practices. Regular security updates are essential to avoid introducing vulnerabilities to your store.
By keeping these factors in mind, you can confidently choose WooCommerce plugins that perfectly suit your store's requirements, ensuring smooth and effective operation for your online business.
Conclusion
Incorporating WooCommerce plugins is a beneficial way to improve and grow your online store. With WooCommerce plugins, you can extend your store's capabilities and customize them to fit your needs, resulting in a smooth and enjoyable shopping experience for your clients.
Consider your specific needs and goals When choosing plugins for your store and Evaluate the features, reviews, and compatibility of the plugins as well. Select reputable plugin developers with good support and regular updates. Furthermore, Adjust your budget and the scalability of the plugins as your store grows.
Regularly review and assess the performance and effectiveness of the plugins you have installed. Keep your plugin selection lean and ensure they are optimized for performance to avoid unnecessary bloat on your website. Consider using these enlisted WooCommerce plugins to grow your online store. The list is provided for your convenience.