5 Best Open Source Help Desk & Ticketing Systems for Business Support
No matter the size of a business, customers are the lifeblood. That's why, delivering top-notch customer support is important. It's not just a service, it's an experience that can make or break your relationship with your customers.
A good help desk software can simplify your customer service and help you solve problems quickly and effectively.
But with so many options out there, how do you choose the right one for your business?
Don't worry, We've done the research and found the 5 best open-source help desk software that will take your customer service to the next level.
What is a ticketing system?
A ticketing system is a software application that helps businesses effectively manage customer support tickets or inquiries. It acts as a centralized hub where customers can submit their issues, and support teams can track, prioritize, and resolve them.
At its core, a ticketing system converts customer interactions, whether through email, phone calls, or chat, into tickets. Each ticket contains relevant information like the customer's contact details, the nature of the issue, and any previous communication.
Why do you need an open-source free ticketing system?
In today's fast-paced business world, providing exceptional customer support is crucial for success. Companies need a reliable and efficient system in place to manage and resolve customer issues promptly. This is where an open-source, free ticketing system comes in handy.
Traditional ticketing systems can be quite expensive, with licensing fees, maintenance costs, and upgrade fees. With a free and open-source ticketing system, companies can significantly reduce costs.
By opting for an open-source solution, businesses can eliminate these expenses and allocate their resources elsewhere. Some more benefits of open-source help desk software are:
Ability to customize the software to match your preferences
Save money on licensing fees and subscriptions
Contribute to software development by reporting bugs and suggesting features
Join a community of users and developers for knowledge-sharing and mutual support
5 best open source help desk and support ticketing systems
Open source help desk is a type of software that allows you to manage customer support requests and issues through a ticketing system. Open source means that the software is free to use, modify, and distribute and that the source code is publicly available.
So sit back and let's explore the top 5 help desk software!
Fluent Support
Fluent Support is the most effective support ticketing system for WordPress. Its super fast and reliable features make your customer service fast, fun, and fluent. You don't need to know coding skills to use it. You can install Fluent Support and set up your own support portal in just a few clicks.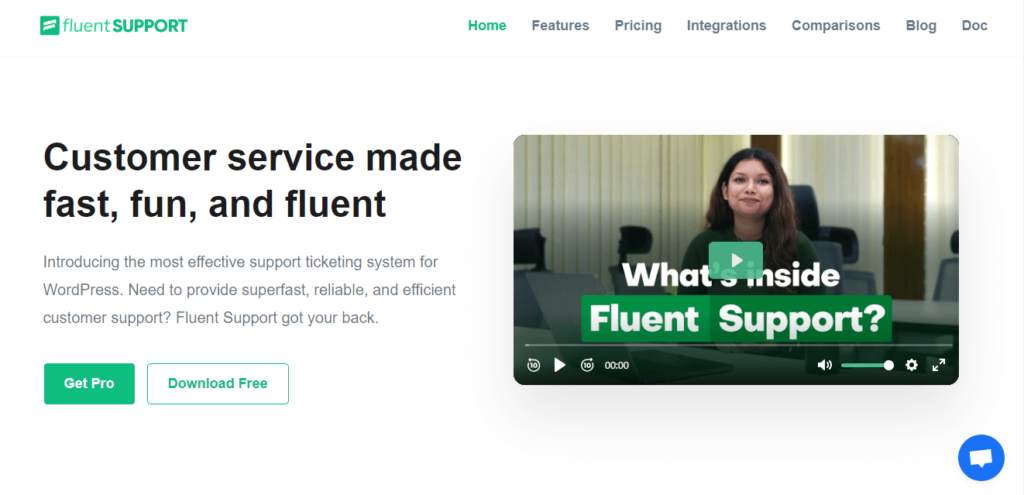 Moreover, Its outstanding development team makes it unique. The passionate team behind the plugin crafted features such as advanced filtering, workflows, and email ticketing to make it the most efficient support ticketing system.
Key Features of Fluent Support:
Simplifies ticket management by allowing easy filtering, sorting, and progress tracking
Assign tickets automatically and priority replies based on products and urgency
Tracks response delays for each ticket, and you can respond to them priority base
Enhance support team collaboration with internal notes
Can save replies for repetitive tickets and faster replies
Collect extra information using custom fields like checkboxes and radio choice
Integrate with Telegram, Slack, and Discord for faster responses to customers
Automate workflow to streamline tasks and reduce manual effort
Customers can create a ticket via email without signing up, improving convenience
Built as a first loading Single Page Application for swift navigation
FreeScout
FreeScout is an open-source helpdesk software. As an alternative to Zendesk and Help Scout, it is designed to simplify customer support and ticket management systems. It is an ideal solution for businesses and organizations seeking an efficient way to handle customer inquiries, issues, and feedback.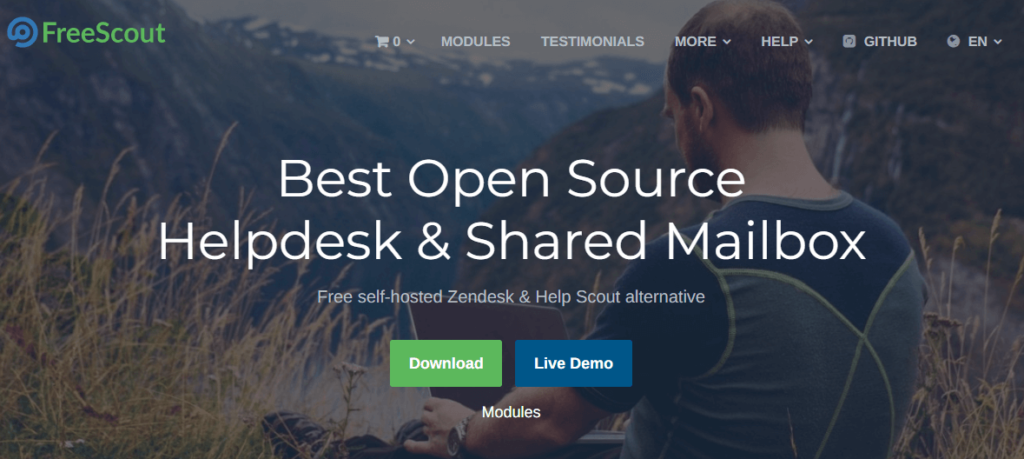 Key Features of FreeScout
FreeScout offers a visually appealing user interface
Convert incoming emails into support tickets easily
Stay updated with real-time alerts on new tickets and updates
Manage customer tickets on the go with free mobile apps for iOS and Android
Support internal notes system with team members
Set up automated replies to common queries for quick feedback
Have time tracking module system to track time spent on tickets
Seamlessly integrate FreeScout with other applications and systems
Secure user authentication and centralized user management with LDAP support
Engage in real-time communication with customers through live chat
Support customers preferred messaging platforms for a seamless support experience
osTicket
osTicket is a popular software that is designed to simplify customer support and ticket management for businesses and organizations. It allows you to manage customer support requests via various channels like email, web, phone, chat, or social media.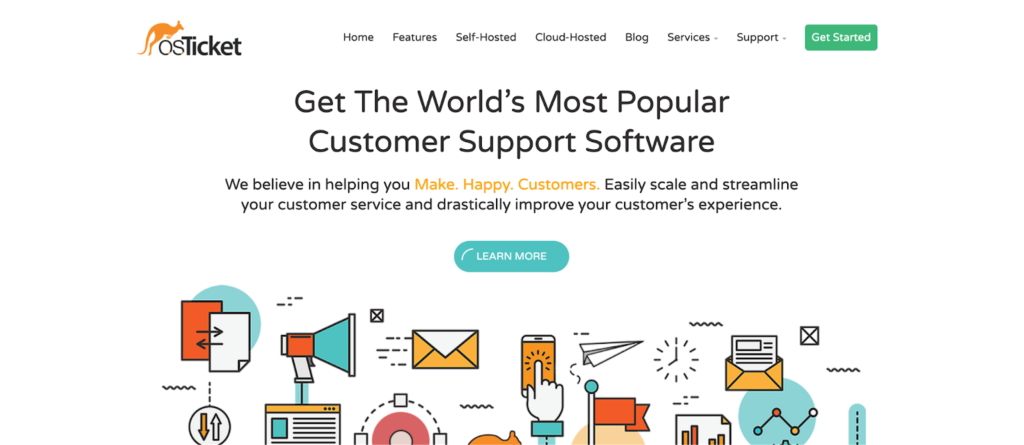 It is a web-based application that you can install and run on your server, giving you full control over your data and privacy. You can stay connected with customers across various platforms through Slack, WhatsApp, Facebook, and Telegram, enabling ticket reception and replies.
Key features of osTicket
You can add custom fields, forms, and lists to collect data from your customers and tickets
Organize and categorize your tickets for easy access and resolution
Prevent multiple agents from working on the same ticket at the same time
Auto-responder and templates for common questions or issues
Open tracking and satisfaction ratings
Tags, custom columns, queues, and search functions to sort, view, and find your tickets
Tickets system via email without logging into the web interface
Multilingual support for over 20 languages
Mobile-friendly interface that works on any device and browser
Web installer that makes the installation process simple and quick
UVDesk
UVdesk offers both SaaS-based and open-source solutions to make the overall support process easier and deliver the best customer service. It is built on the Symfony PHP framework and is highly customizable for complex customer support requirements.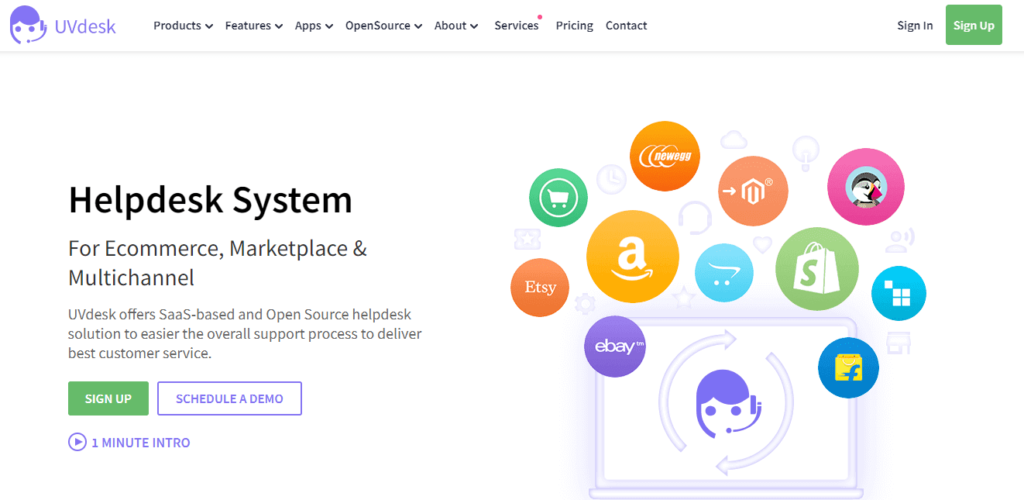 It is designed to assist businesses in managing customer inquiries efficiently and providing top-notch support. It is integrated with multiple marketplaces, eCommerce stores, and email service providers to provide multi-channel support.
Key features of UVDesk
Support multiple email service providers in one platform
Centralized system to receive, categorize, and prioritize customer queries
Self-service knowledge based on customer preferences with articles and FAQs
Supports various communication channels based on customer preferences
Automate repetitive tasks for improving productivity and faster ticket resolution
Support agents can collaborate through internal notes without involving customers
Can be fit specific business workflows and requirements as an open source
Supports multiple languages for global customers
Detailed insights on ticket metrics, agent performance, and customer satisfaction
GDPR compliance features for secure handling of customer data
Freshdesk
Freshdesk is a cloud-based customer service software. It helps businesses streamline their customer support and efficiently manage their customers as they scale. You can track and manage incoming tickets from multiple channels into one single view.

With its user-friendly interface and extensive features, Freshdesk has become a go-to solution for businesses of all sizes. You can ensure quick responses to customer inquiries and provide a personalized touch to enhance the overall customer experience.
Key features of Freshdesk
Support customers across various platforms like email, phone, chat, social media, and messaging apps
Offer custom SSL certificates to secure your support domain for a safe and personalized experience
Analyze and gather critical insights on customer experience with advanced analytics
Customize Freshdesk completely to suit your business requirements
Leverage AI capabilities to provide faster resolutions to customers
Businesses can create self-service portals with articles, FAQs, and guides for reducing the need for direct support
Integrates with CRM, e-commerce, and collaboration tools, for improving productivity
Collaborate with multiple teams within your company
Which Open Source help desk is best? Our final takeaways
Finding the perfect help desk software is like discovering the heart of your business processes. After analyzing these amazing open-source help desk solutions, two winners stand out with their unique features.
If you're a WordPress user seeking simplicity and speed, Fluent Support is your perfect ticket system. Its lightning-fast features, seamless installation, and dedicated customer support make it an ideal choice for those looking to upgrade their customer service experience.
For businesses who are searching for scalable excellence, osTicket stands out for its wide approach. It's a true one-stop solution for businesses on keeping all their support interactions in one neat interface. Plus, providing self-hosting means you're in control of your data and privacy.
In the end, your business's support journey is in your hands. Analyze these options, consider your priorities, and finally select the open-source help desk that's your perfect support buddy.
Your customers are waiting!