9 Best Malware Removal Plugins to Demolish Malware Once and for All
WordPress is an open-source platform that allows everyone to modify, share and contribute. However, this freedom not only helped WordPress become the most popular CMS platform, but it also made it a favorite playground for loopholes and hackers!
Furthermore, WordPress users frequently unintentionally attract some of the most dangerous viruses and malware, putting your WordPress site at risk as well!
So, how should you deal with them?
Well, using an effective WordPress malware removal plugin is the most efficient way to combat these security threats. And in this article, we've showcased some of the best for your consideration.
Before we get into our handpicked list of the best malware removal plugins for WordPress, let's go over some fundamentals!
Why should you be removing malware from your site
Malware, short for malicious software, is any intrusive software created by cybercriminals to steal data and harm or completely destroy computers or websites.
Massive amounts of data get lost to malware attacks each year. According to the Malwarebytes Ransomware Retrospective reports, ransomware attacks on businesses went up 365% from Q2 2018 to Q2 2019.
The most common types of malware are:
Worms
Trojan Horses
Spyware
Adware
Ransomware
Malware can steal your user data, financial details, private information, and just about any data your website contains. And hackers can encrypt those data so you cannot access them and demand a huge amount of ransom for the decryption key.
To further emphasize, your website is your most important asset and if you leave it be, it will get affected by the vicious malware. That's why you should take the necessary action to strengthen your website's overall health.
How to remove malware from your WordPress site?
If you know your way around it, manually removing malware from your WordPress site is possible albeit rather tiresome. Here's how you can remove malware from WordPress sites:
Step 1: Conduct a backup of your site's files and database
Backup all your site's components including the website file and database. Keep in mind that, this process can take a significant amount of time as backing up the site itself along with all your uploads in the wp-content folder might add up to gigabytes and gigabytes of data! 
You can also make use of a WordPress backup plugin to conduct a thorough backup of your site. Also, make an additional backup of your site just to be on the safer side.
Step 2: Thoroughly check your backup files
Give the backup files in each folder a thorough check-up for malware. The backup should contain:
WordPress Core files
The wp-config.php file
.htaccess file
The wp-content folder
The database
Step 3: Format WordPress files and folders
Delete all your site's content including files and folders, especially the public_html folder, but leave those folders unformatted which couldn't possibly contain malware like in the CGI-bin folder.
Step 4: Reinstall WordPress
Reinstall WordPress, you can even reinstall it in one click if your provider has the option.
Step 5: Change passwords and credentials
While reinstalling WordPress, you'll be able to input a password, we recommend generating a new password for your site for a fresh start. Along with this, change your other credentials including your username.
Reinstall your previous theme from scratch by downloading it freshly. We'd advise you to not upload your old theme as it might contain hacked files from the malware.
Step 7: Reinstall plugins 
Reinstall the plugins you previously had from the WordPress repository or download them from the plugin developers. Don't install old plugins or plugins that are abandoned by their developers as they can make your WordPress site vulnerable.
Restore all your files and folders that you backed up. Upload all the content that you had as backup files. If you used a backup plugin to conduct your backup, it should allow you to restore it from the same plugin.
Now comes the crucial part, it's not that you scan your site once and forget about it, rather, this is something that you need to do at regular intervals. Do a full site checkup using a WordPress security plugin to make sure that your site is free from malware.
Step 10: Run a WordPress security plugin
Remember the part where we talked about being eternally vigilant? And, the vigilance begins with installing and running a WordPress security plugin. Run the audit feature and scan your website every once in a while to stay vigilant of the malware and many other security threats of WordPress sites.
9 best malware removal plugins for WordPress
Now that you know how to remove malware from your WordPress site, you must have an idea of how gigantic of a task it is. But, no matter how ginormous it is, once your site gets infected with malware, you must take the necessary steps to remove it.
However, the process becomes way easier with the integration of a malware removal plugin in your WordPress dashboard.
Among the plugins that are available for WordPress at the moment, we wanted to find the best malware removal plugin for WordPress because you would want the best for your site's health.
After extensive research, below are our top picks for the best malware removal plugin. Let's explore! 
Malcare
When it comes to malware removal plugins for WordPress, Malcare is regarded as the strongest of the contenders. Malcare is also trusted by well-known business sites like intel, eBay, and Toshiba for the safety of their data and WordPress sites.
It offers real-time protection thanks to its "smart" firewall technology. Because Malcare uses its own servers for malware scanning it won't slow down your site. And they promise to provide effective malware removal service in less than a minute.
Furthermore, MalCare can target just the portions of files that are affected by malware, leaving the unaffected parts of your site intact and fully functional.
Features include:
Malware Scanner
Malware Removal
WordPress Firewall
Bot Protection
Vulnerability Scanner
WordPress Backups
Activity Log
Malcare pricing:
Free version with limited features
Basic starts at $99/yr
Plus starts at $149/yr
Pro starts at $299/yr
Wordfence Security
Wordfence is a household name in the WordPress community for the sheer amount of functionality they offer for free. Its popularity is apparent with over a million downloads and going.
The plugin provides a comprehensive suite of security features that are receiving algorithm updates on a regular basis. Wordfence can detect bad quality codes and can conduct advanced security checks on your WordPress core, themes, and plugins.
With its threat defense feed, Wordfence comes up with newer firewall rules, malware signatures, and malicious IP addresses to keep your WordPress site safe. Rounded out by 2FA and a suite of additional features, Wordfence is the most comprehensive WordPress security solution available. 
Features include:
Endpoint firewall
Malware scanner
Login security features
Live traffic views
Repair and delete options
Two-factor authentication
Country blocking
Wordfence pricing:
Offers free trial
Premium plan for $119/yr
Care plan for $490/yr
Response for $950/yr
Sucuri Security
Sucuri is a free WordPress security plugin available in the WordPress repository. Sucuri has managed to gain its rightful place at the top of the mind of every WordPress enthusiast with its wide array of WordPress security features.
It provides a security suite that complements your existing security posture. The security plugin comes with hardening features, malware scanning, core integrity check, post-hack features, and email alerts, to help keep your website protected.
With all the integrated features, Sucuri gives you peace of mind and lets you unwind without ever worrying about the potential malware threats your WordPress website faces every day.
Features include:
Security Activity Auditing
File Integrity Monitoring
Remote Malware Scanning
Blocklist Monitoring
Effective Security Hardening
Post-Hack Security Actions
Security Notifications
Website Firewall (premium)
Sucuri pricing:
Basic platform for $199.99/yr
Pro platform for $299.99/yr
Business platform for 499.99/yr
Titan Anti-spam & Security
Previously named Anti-spam, now rebranded as "Titan" is a comprehensive WordPress security solution, enriched by a set of additional features as add-ons, placed in a simple and intuitive interface.
The array of features provided by Titan includes— anti-spam, firewall, malware scanner, site accessibility checking, and security and threats audits for WordPress websites.
Titan's security functions provide the plugin with the latest firewall rules, malware signatures, and a database of malicious IP addresses, just about all the functionalities you need to secure your WordPress website.
Features include:
Anti-spam
Firewall (WAF)
WordPress Security Scanner
Malware scanner
Real-time IP Blacklist
Detect Malicious Code in Themes and Plugins
Site Checker
Premium support
Titan pricing:
Free version available
One site for $55/yr
3 sites for $159/yr
6 sites for $319/yr
Astra Security Suite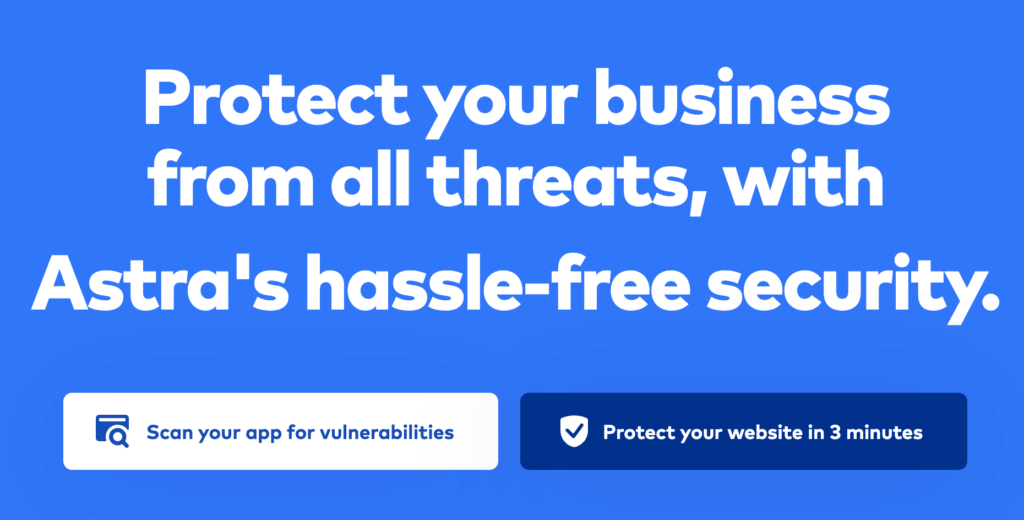 Astra is the go-to security suite for your WordPress website. Astra provides extensive security services including a real-time web application firewall, malware scanner powered by machine learning, immediate malware cleanup, vulnerability assessment, and penetration testing (VAPT).
The plugin is installed as an extension by following some fairly easy-to-follow steps that are claimed to take less than 5 minutes. You do not need to change DNS settings which make the installation a breeze.
Astra prioritizes cleanup requests from its members depending on their customer's plans and it takes somewhere between 4-12 hours for a cleanup. Through their intuitive dashboard, you can manage all your website security and they do make it feel like a minute operation.
Features include:
Web Application Firewall (WAF)
Community-powered security engine
Real-time SQLi, XSS, LFI & 100+ threats protection
Malware scanning & removal
Bad bots blocking
Country blocking/whitelisting
IP range blocking/whitelisting
Backdoor removal
24×7 chat & email support
Astra pricing:
Pro plan for $249/yr
Advance plan for $799/yr
Business plan for $1999/yr
SecuPress Free — WordPress Security

SecuPress, as the name suggests, is a free security plugin for WordPress which comes with a WordPress security toolkit to scan your website for malware, bots, and traffic from suspicious IP addresses.
SecuPress can run security audits even in the free version which highlights dozens of security issues in just a few minutes.
While free users have to activate scans themselves, premium subscribers have access to the "auto fix" feature, which will automate the whole scanning and malware-removing process.
Features include:
Anti Brute Force login
Blocked IPs
Firewall
Security alerts
Malware Scan
Block country by geolocation
Protection of Security Keys
Block visits from Bad Bots
Vulnerable Plugins & Themes detection
Security Reports in PDF format
SecuPress pricing:
Free version available
$69.99/yr per site
Security & Malware scan by CleanTalk
If you're looking for an affordable WordPress security plugin, CleanTalk is the way to go. Costing less than $10, CleanTalk provides all the basic security features you'd expect in a WordPress security plugin.
It is a cloud-based security plugin that protects your website from security threats and provides you with great security instruments to control your website's security. CleanTalk provides detailed security stats for all their security features so you could be able to take full control of your website's security. The security logs are stored in the cloud for 45 days.
Features include:
Security firewall
Automatic malware removal
Malware scanner
Web application firewall
Geoblocking
Audit logs
Login security
Two-factor authentication
CleanTalk pricing:
Anti-Malware Security and Brute-Force Firewall

The Anti-malware security and brute-force firewall is a free WordPress security plugin developed by Eli Scheetz. In its free version, the plugin offers basic security features such as malware scanning, cleanups, firewall security, and more.
The plugin lets you download definition updates to protect against new threats. It also can run a complete scan to automatically remove known security threats, backdoor scripts, and database injections. The plugin can firewall block SoakSoak and other malware from exploiting plugins with known vulnerabilities.
You can choose to donate $29 to unlock its premium features that include the ability to patch your wp-login and XMLRPC to block brute-force and DDoS attacks, check the integrity of your WordPress core files, and automatically download new definition updates when running a complete scan.
Features include:
Malware cleanups
Malware scanner
Firewall security
Easy installation
Patch-up wp-login and XMLRPC
Automatic download of new definition updates
Anti-Malware Security and Brute-Force Firewall pricing:
Free version
Premium features unlock upon the donation of $29
Quttera Web Malware Scanner

Quttera is a free WordPress security plugin that can conduct scans on your website for malware, trojans, backdoors, worms, viruses, shells, spyware, and multiple other threats that lingers online, ready to attack your WordPress site.
The plugin can also protect your WordPress site against JavaScript code obfuscation, exploits, malicious iframes, malicious code injection, malicious code obfuscation, auto-generated malicious content, redirects, hidden eval code, and many other security threats.
Quttera web malware scanner also will check whether your website is blacklisted by Google which can cause hurdles in your website getting indexed by Google. Quttera helps you to protect your website, your website users, and your online reputation with their free malware scanner.
Features include:
One Click Scan
Unknown Malware Detection
External Links Detection
Blacklist Status
No Signatures or Patterns Updates
Artificial Intelligence Scan Engine
Cloud Technology
Detailed Investigation Report
Investigation of WordPress files
Detection of files infected by PHP malware
Detection of injected PHP shells
Quttera pricing:
Essential security for $10/mo
Premium security for $179/yr
Emergency security for $249/yr
Final thoughts
A website carries out your business and your reputation along with it. When you lose your website to malware, you lose the things that are closely associated with it too. So, never leave your WordPress site vulnerable to an alarming number of security threats.
Research extensively to choose the best malware removal plugin for your WordPress site as only you have the clearest idea of which one suits your specific needs the best. And we hope this article helped you in this regard.
If we omitted anything that you found in your own research, let us in the comments below! Have a good day!