5+ Free WordPress Donation Plugins to Boost Your Fundraising Efforts
If you are running a charity or nonprofit website, we know how stressed you probably already are with all the hassles of collecting donations. But guess what, WordPress donation plugins can take all those stress off your shoulder and make the overall procedure efficient.
Not just that, donation plugins can also make the donation procedure easy for the donor. Overall, you can become transparent and loved by all simply by using the right WordPress donation plugin.
That's why we have done the research and put together a list of the best WordPress donation plugins that'll not only help your organization but also please the donors.
But before getting into the plugins, let's first understand what WordPress donation plugins are, their advantages, and what to consider before using one.
What are WordPress donation plugins?
WordPress donation plugins are third-party solutions that can facilitate the collection of donations and the processing of payments for your WordPress sites. These plugins not only make your job easy but also make it convenient for people who want to donate to non-profits, charities, political campaigns, religious groups, etc.
These plugins can help you set up donation forms, recurring donations, payment methods, tracking and management, and thank-you emails. WordPress donation plugins are often user-friendly and compatible with the vast majority of existing themes and extensions.
Advantages of using donation plugins for WordPress
Even though most people question the importance of donation plugins, most of them end up loving the features of a donation plugin. And just so you don't have to go through the questioning phase, we listed the most useful advantages of using donation plugins:
Increased donations: Donation plugins simplify the process of collecting financial support online. Donation rates are boosted by using a plugin that provides a variety of payment options and a flexible donation form.
Streamlined donation management: Donation plugins will allow you to organize your fundraising efforts. These amazing tools often provide reporting and analytics capabilities that allow you to monitor your progress and zero in on problem areas.
Customizable campaigns: WordPress donation plugins give you the freedom to design campaigns that perfectly reflect your organization's identity and goals. This can help get the word out about your causes and bring in additional donations.
Recurring donations: A wide variety of donation plugins also support recurring donations. This has the potential to raise more money for your cause over time and create a more reliable revenue stream.
Flexibility: Donation plugins are highly adaptable and can be modified to serve a wide range of purposes. As a result, you can easily modify it according to your organization or campaign's needs.
Overall, donation plugins can help you a great deal by making it easier for visitors to donate, streamlining donation management, and providing customizable campaigns, these plugins can help increase the amount of money that you collect and support your organization's mission.
Things to consider while choosing a WordPress donation plugin
Now that you know how helpful WordPress donation plugins can be for your cause, you should not waste any minute and get started with one. But as we said, there are quite a few options available when it comes to donation plugins.
That's why we want you to know what to consider while choosing a WordPress donation plugin.
Let's begin!
Compatibility: It's important to make sure that the donation plugin you choose is compatible with your version of WordPress and any other plugins you may have installed on your site. Incompatible plugins can cause errors, conflicts, or even break your website.
Ease of use: A donation plugin should be easy to use for both you and your donors. The plugin should have a user-friendly interface that allows you to easily set up and manage your donations. Also, it should be easy for donors to make their contributions without having to jump through too many hoops.
Payment processing: Your donation plugin should have a reliable and secure payment processing system. It should support different payment methods, such as credit cards, PayPal, and others. Additionally, it should have strong security features to protect your donors' personal and financial information.
Customization option: A good donation plugin should allow you to customize the donation form and fields to match your branding and style. It should also allow you to set donation goals, create recurring donations, and add donor recognition options, like thank-you messages or donor badges.
Reporting and analytics: It's essential to have reporting and analytics tools to track your donations' progress, including the number of donations, total amount raised, and donor demographics. These insights can help you make informed decisions about your fundraising campaigns and donation strategies.
Support and updates: Make sure to choose a donation plugin that comes with reliable support and regular updates. If you encounter any issues or have questions, you want to be able to get help from the plugin developers. Additionally, updates ensure that the plugin stays compatible with new versions of WordPress and that any security vulnerabilities are fixed promptly.
6 of the best WordPress donation plugins(free)
The number of available donation plugins is just as big as the field of donation and charity. That's why it's understandable if you get confused about which donation plugin should you get to help your great cause.
To save you from the trouble and be a little part of your cause, we did the hard work and compiled a list of the 6 best WordPress donation plugins.
Paymattic

Paymattic is a premium WordPress donation plugin that you can get started with for free from the WordPress repository. This plugin was previously known as WPPayForm and over three thousand organizations are collecting their donations through Paymattic.
Paymattic allows you to create forms for accepting donations or payments. With 35+ different input fields, you can create donation forms to accept payments from your customers through a number of different gateways that come included with Paymattic.
Powerful features such as a contribution progress bar, support for many currencies, a thorough report, a donor profile, and a bespoke donation amount are included. And the good news is, you'll only have to pay 9.99$ per month to take advantage of all the features Paymattic offers.
Paymattic Features:
Fundraisers can set a specific goal amount to get people to give money that will go towards something real
Donors can set up automatic donations to support the cause
A progress bar will show how far along the fundraising is, which can encourage more donations
Fundraisers can set up payment amounts ahead of time to make it easy for people to give a certain amount
Donors can choose whatever amount they want to give
When the campaign meets its goal, Paymattic will automatically stop recurring donations so that the campaign doesn't get more money than it needs
Fundraisers can use thorough reports and analytics to keep track of data about donations and learn more about how donors act
People can support a campaign without having an account, which makes it easy for anyone to help a cause
Donorbox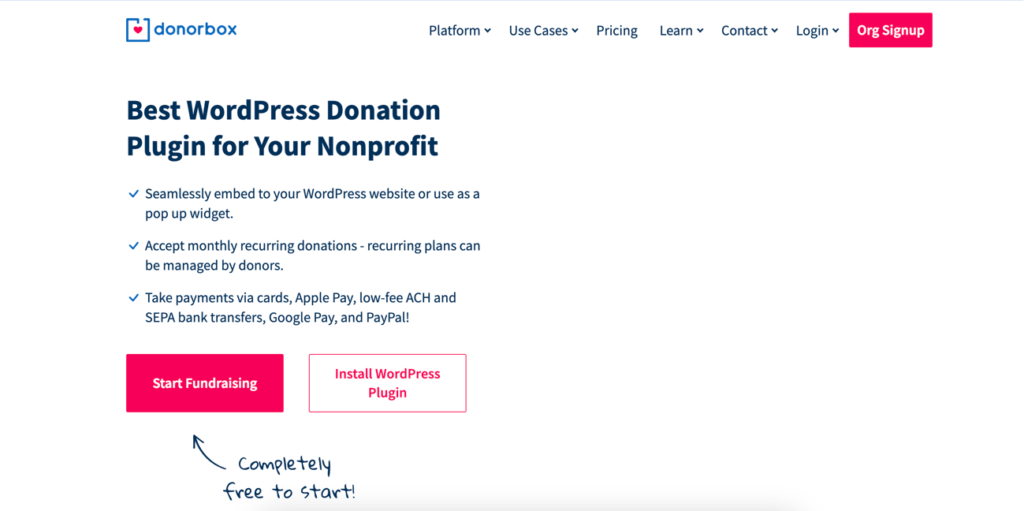 Donorbox is a free donation plugin for WordPress that can fetch donations from employers, automatically identify the user's location, and work on multiple devices. Donation forms can be changed to work with different payment methods including PayPal, Stripe, and Google Pay.
Not just that, you can use Donorbox to accept donations in more than one currency, offline cash, and checks. Stripe can be used for storing encrypted payment and donation information in this plugin.
However, this plugin comes with platform fees and that's between 1.75 to 2.95 percent. That's why you should get the pro version to make the most out of Donorbox. The pro version is a flat $139 per month with only a 1.5% platform fee.
Donorbox Features:
Enables contributors to find out if their employer has a matching gift program
Automatically determines the donor's locale and modifies the language and currency settings as necessary
Donation forms function flawlessly on all platforms
Offers completely customized donation forms that enable organizations to incorporate their logo, messaging, and graphics
Multiple payment gateways: Donorbox accepts a variety of payment methods, including bank transfers, PayPal, Stripe, and Google Pay
GiveWP

GiveWP is undoubtedly one of the top WordPress donation plugins available for WordPress. You can take one-time and recurring donations with a variety of payment processors, including PayPal and Stripe.
This plugin comes with complete donor management tools and can help the donors track payment history anytime they want. Using the very feature you can keep track of who are your top donors and what types of donations they make.
The GiveWP donation plugin provides many customizable donation formats, including buttons and pop-ups. The ability to create unique goals helps motivate contributors to reach their funding objectives.
With fundraising marketing add-ons, you can increase the functionalities of GiveWP to another level. And guess what else you'll need with the add-ons?
The pro version! It'll cost you anywhere from $149 to $599 per year. Now, let's go over the features of GiveWP.
GiveWP Features:
Accept both one-time and recurring donations through a variety of payment processors, such as PayPal and Stripe
Pop-up and button donation forms with a custom goal feature that may be customized
Features for fully managing donors, including registering donors and tracking donations, and payment history
Information about the top donors and types of donations
Add-ons for fundraising marketing, such as connectors with Mailchimp and Constant Contact
Encouragement tool to get donors' employers to match their gifts
The confirmation page's "thank you" message can be customized
Charitable

Charitable is a robust WordPress donation plugin that makes collecting donations for charity causes easy. Charitable helps you build effective donation campaigns, manage donors, and maximize fundraising for local charities and global humanitarian organizations.
You can create endless, time-sensitive fundraising campaigns that complement your website's theme and appearance using charitable. And when it comes to accepting payments, this plugin offers all of the methods of both the online and offline world.
The best part?
All of it can be done for free. However, if you still need the pro, it'll cost you from $99 to $499 a year depending on the plan you choose.
Charitable Features:
Unlimited and time-based donation facilities with themes that coordinate with your website
Accepts physical payment options including checks and bank transfers in addition to online payments made through PayPal
A flexible system for managing donations that supports sorting, searching, and CSV export
Automatic creation of donation receipts and programmable email tags for customized contact with contributors
Charitable Pro includes extra features such as peer-to-peer fundraising, recurring donations, and more payment gateway integrations
PayPal Donations

With over 20,000 downloads, PayPal Donations has become one of the most popular WordPress plugins for collecting funds. It provides a quick way to receive money using the "PayPal Donation" button that can be placed anywhere on your website.
You can quickly set up a PayPal Sandbox account with PayPal Donation to test your donation campaign page for bugs before making it available to your audience. It also supports a variety of button designs for both one-time and recurring donations.
You can receive donations from donors all across the world because this plugin supports 18 languages and 25 different currencies. You can translate it into any language you like as well.
The Pro edition of PayPal Donation has a freemium pricing structure, with annual prices ranging from $29.99 to $199.99. Additionally offered are lifetime licenses.
PayPal Donations Features:
Making a PayPal Sandbox account will allow you to test your fundraising page
Easy button placement using the page/post shortcode inserter and donation widget
Numerous buttons to select from, and you may make one-time or ongoing donations
PayPal Donations supports over 18 languages, 25 currencies, and is translation-ready
Lifetime licenses are available
In the US, PayPal levies transaction fees of 2.2% + $0.30 for one-time donations and 2.9% + $0.30 for recurring ones
Seamless Donations

Seamless Donations is a WordPress donation plugin that makes donations easy for any charity or nonprofit organization. The first reason being it's completely free to start with, and the second is its intuitive features like easy integration with Stripe and PayPal.
For charities on a tight budget, Seamless Donations is a fantastic option because there are no platform costs. You can set up recurring gifts and thank you emails for the donors who are regularly donating to your cause.
Although the plugin is available for free download, you can buy premium add-ons to gain access to responsive donation forms and additional functionality. It costs $19.95/site for each add-on.
Seamless Donations Features:
Donation feature for memorials and tributes
Integration of Gift Aid for citizens of the UK
Support for multiple currencies
Integrations with both Stripe and PayPal
Donations can be made repeatedly via desktop and mobile platforms
Emails with a personalized "thank you" message for contributors
There are no platform fees
Is there a WordPress donation plugin we recommend? —Yes!
Donation plugins are undoubtedly a great addition to any non-profit, charity, or political campaign website. These plugins make it easier for visitors to donate and streamline donation management.
If we are to share our verdict, we'll say that Paymattic will be the winner considering all aspects. This plugin will not only make your job easy but also make it easier for your audience to provide payments. On top of that, you can start using this plugin for free!
Ultimately, you are the one who has to make a call regarding which donation plugin your organization is going to use. We hope you found this blog helpful and you'll be able to make the right decision. Don't forget to share which you've chosen!