The Fastest WordPress Hosting Services: 6 Options Compared
Do you know that research says if your website takes more than 7 seconds to load, you may lose up to 70% of your customers?
Your website's loading speed depends significantly on the hosting service you're using. So, if you're not investing in good hosting, you're probably leaving money on the table!
However, there are plenty of hosting services in the market. And with most of them making promises such as 24/7 uptime and super fast speed, choosing the fastest hosting provider for your WordPress website can be difficult.
Don't worry, we've done the homework for you. We will discuss the fastest WordPress hosting providers so you can make a wise decision to ensure perfect hosting for your website.
Let's dig into the detailed discussion.
Why does WordPress hosting speed matter?
What's the first thing that makes you want to leave a website and go to the next one?
We bet it's the slow loading time of web pages. And that's where WordPress hosting speed comes in.
No one likes slow websites. And if your WordPress site loads slow, visitors will eventually become frustrated and leave your website. Slow websites also trigger bounce rates and exits, which isn't a good sign for a website. Thus, you should invest in good hosting right away.
Apart from that, there are several matters to explain why website hosting speed is important:
Optimizing conversion: 0-4 seconds is the optimal time for conversions to happen. Since hosting greatly impacts a website's loading speed, choosing a good one is important for conversions.
Decreasing bounce rates: People hate waiting, especially online. A slow loading speed can trigger your website's bounce rate. It will lead to lower engagement rates and conversions.
Better user experience: It helps to increase the engagement rate which is a good sign for engaging visitors to your website. Engaging more customers on a website is a good sign for search engine algorithms.
Improving Google ranking: While Google dropped page speed as a ranking factor, there's really no argument about whether the speed is important, faster loading sites rank higher because they ensure a good user experience and decrease bounce rates or exits.
Factors to look for when choosing the fastest hosting provider
Most hosting companies provide different types of hosting facilities and functionalities. While you should select a hosting service based on your website's goal and type, there have some common factors that need to be considered:
Website traffic size: When you are selecting a hosting provider, it's significant to consider your audience size. Do not be misled by their unlimited traffic promises and carefully review their terms of service.
Customer Support System: A good hosting provider should have multiple support systems like live chat, email, phone calls, and support tickets. Also, check if they offer a responsive and effective 24/7 support system to ensure you get help when you need it.
Estimate budget: Most hosting companies initially offer attractive pricing options. But this usually takes a significant jump during renewal. Try to find out how much your hosting service charges.
Server location: Pick a hosting that offers a server near your targeted audience location. Also, check whether they have CDN(Content Delivery Network) or not. Because CDN helps to load a website very quickly.
Security and reliability: Maintaining privacy between websites and users is important. So, your hosting company should be able to provide an SSL certificate.
5+ fastest WordPress hosting services
Most hosting companies will claim that they are the best and their hosting is the 'fastest'. To make their claim fair, you'll experience a superfast website at the beginning. But once your website starts getting some traction, you'll start noticing performance issues on your website.
Why does this happen?
It's because they're probably not as optimized as they promised. But don't worry. You don't have to find the needle in the haystack. Based on the factors mentioned earlier, we found 6 hosting services with excellent speed.
Let's find out if they're a good fit for you!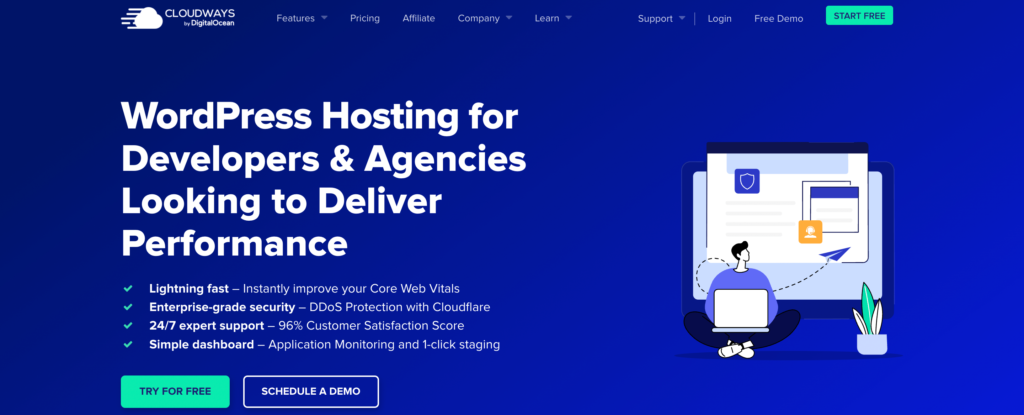 Cloudways stands apart in the hosting industry due to its unique hosting method. Instead of server-based hosting, it offers cloud hosting via other cloud infrastructure platforms such as AWS, Google Cloud, Vultr, Linode, and DigitalOcean
You can install WordPress and various CMSs on Cloudways. It is a great and affordable platform that gives a 3-day free trial in the initial period. It also provides automated backups, server monitoring, and security measures to ensure that users' applications are secure and reliable.
Cloudways features at a glance:
One-click WordPress installation and free site migration
Flexible hosting options with cloud server platforms based on your needs and budget
You can host unlimited sites under one server depending on your storage limits
Super easy to host WordPress or other CMS
It has a fantastic staging environment so that you can test before going live
Provide great options for account and team management by creating different accounts
Two-factor authentication, dedicated firewall, and auto-healing servers
Automatic backup system
Provides free SSL certificates for encrypting website data
It provides detailed documentation so that users can solve any issues on your own
Dozen of data centers around the world to help you pick the nearest location of your target audience
24/7 support system with real-time monitoring
Drawbacks
It does not offer any email or domain registration. For that, you need to find out outside email or domain solutions
Cloudways depend on third-party providers for its cloud infrastructure, which could be a risk if the provider faces any technical issues
Does not provide full server access to users can be an issue who want full access to the server environment
Pricing
Cloudways pricing tiers are a little bit different because it offers other cloud platforms to host website data. Their pricing plan starts from 14$ per month. Here's a table showing other available options:
| | | | | | |
| --- | --- | --- | --- | --- | --- |
| RAM | Digital Ocean | VULTR | Linode | AWS | Google Cloud |
| 1 GB | $14 | $16 | $14 | $38.56 | $37.45 |
| 2 GB | $28 | $30 | $28 | $91.84 | $84.12 |
| 4 GB | $54 | $60 | $59 | $183.22 | $152.14 |
| 8 GB | $99 | $118 | $105 | $285.21 | $241.62 |
Kinsta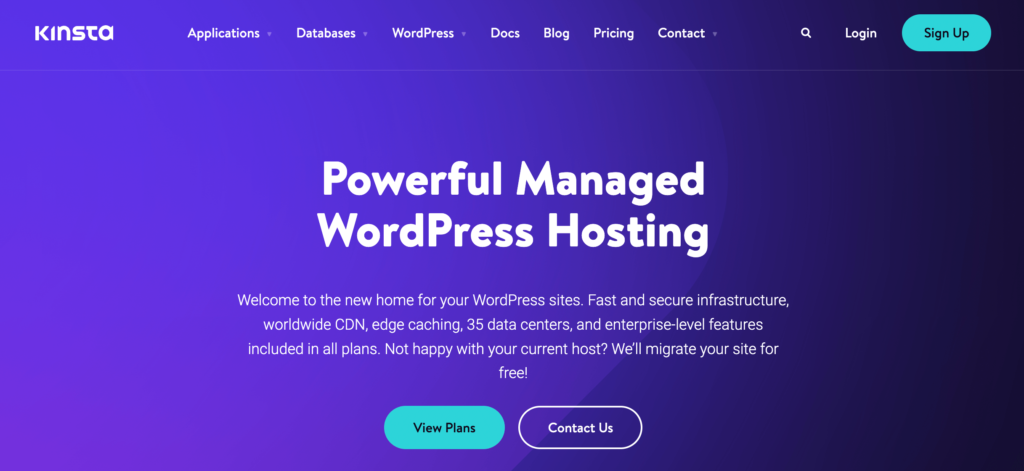 Kinsta focuses exclusively on managed WordPress hosting. The word "managed," means that all server setup and hosting will be handled for you. It's built on top of Google's cloud platform Google C2 machines. As a result, any website hosted on Kinsta uses the same infrastructure that websites like Youtube, Google Maps, and Gmail does. 
Kinsta provides a quality platform in a highly optimized way with a premium solution. It has dozens of premium features with 25+ data centers, uptime monitoring, unlimited users, and lots of features.
Kinsta features at a glance:
Offers free migration so you don't have to pay for the migration when changing hosts
All plans include automated server scaling, every two-minute website uptime checks, and assistance in getting your website back if it gets hacked
Strong security system and provides a free SSL certificate that automatically renews
Cloud-based and optimized technology
Automatic daily backups
Provides SSL for every plan user
Use a global data center by using Google's cloud platform
Provide totally private networks for all users
Superior support system with 24/7 live chat
Every Kinsta plan includes Cloudflare CDN in over 200 countries so that visitors can easily load your website
Provides Business, Enterprise, and Custom hosting options
Drawbacks
It is more expensive. The WordPress starter plan starts from $35/Month whereas Siteground provides a basic plan starting from 3$.
It does not provide any C-panel
Pricing
Kinsta offers a different range of pricing plans for different types of users. They have Starter, Pro, Business, and Enterprise plans for managing WordPress. The starter plan starts from $35 and if you want a customized plan, they offer that too!
WP Engine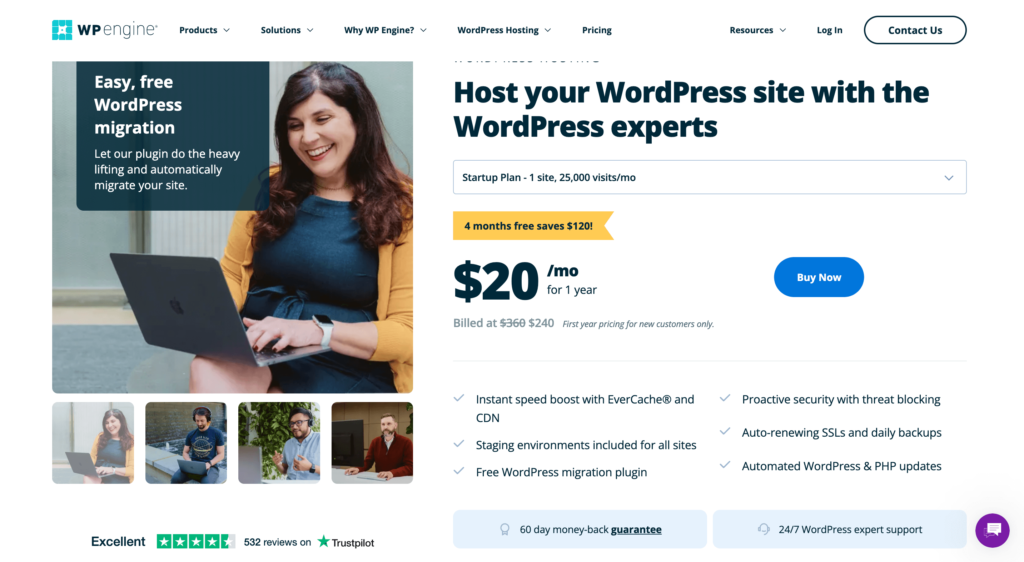 WP Engine has been around for over a decade. Providing managed hosting solutions specifically for websites using the WordPress CMS. It is easy to use. It has a relatively simple dashboard that includes all features in one place when you get the specific WordPress hosting packages.
Along with many other tasks being automated, WP Engine offers eCommerce hosting plans and higher levels of service that include daily site backups and plug-in updates. Additionally, they provide a range of speed optimization solutions, like caching and a content delivery network (CDN), to make sure that your website loads swiftly and effectively.
WP Engine features at a glance:
It provides SSL and free migration from other hosting platforms
Offers regular malware scans and has an updated firewall to prevent the most recent threats
Protects from actual threats by monitoring the website in real-time and offers free hacking restoration by WordPress security specialists.
Provide excellent uptime so that the customer does not face any difficulty in accessing any part of a website
Includes suitable hosting options
Offers 60 days money-back guarantee
Availability of 24/7 customer support via phone call or chat
All plans include a simple one-click process for adding a CDN to your website
Excellent WordPress support, and incredibly quick, and secure servers
Drawbacks
It is more expensive than other web hosting platforms.
You may need to spend some time getting used to the dashboard
Pricing
WP Engine provides 3 types of pricing plans: Manages WordPress, eCommerce solution for Woo, and Advances Solution. Their price starts from 20$ per month. You can buy customize plans also based on your requirement.
Siteground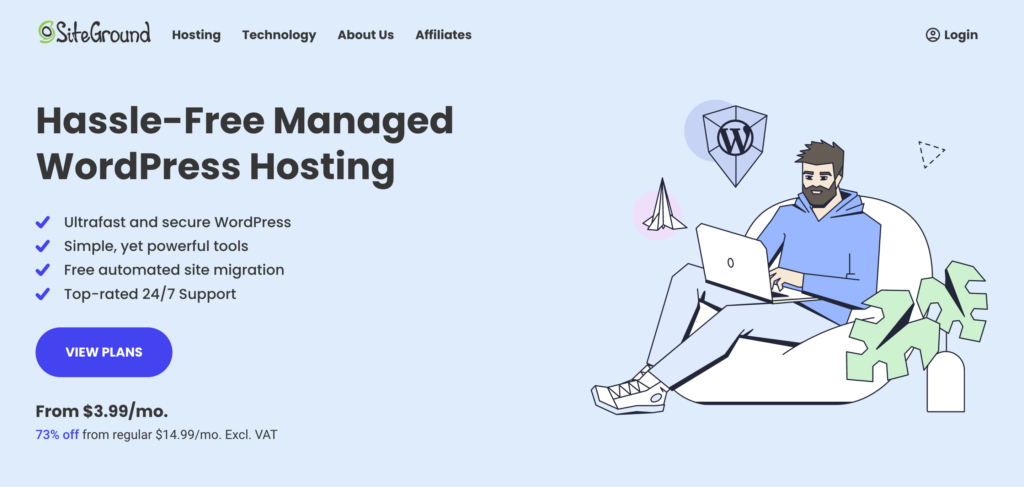 Siteground is one of the famous web hosting platforms and superfast with great security and really easy to use. Siteground offers users both shared hosting and cloud hosting. Their shared option provides some incredible features for managing any type of website.
Siteground features at a glance:
Server locations all over the world
All of their plans include a free SSL certificate for website security
Free email migrator, automatic daily backup, and built-in caching
Cloudflare CDN (content delivery network) to ensure speed for global audiences
A real-time monitoring system helps resolve any issues if they do occur
It's incredibly easy to get started with WordPress installed
They also have a WooCommerce hosting plan which is great for e-commerce
Its average uptime is 99.99% so any website will face minimal downtime
24/7 customer support via live chat, mail, or phone
You can take advantage of a solid refund policy if you're not satisfied with their service
Drawbacks
Removed C-panel. Their control panel takes 5-10 clicks/different pages which is time-consuming and users also need to learn the dashboard
SiteGround only supports Cloudflare CDN. A third-party plugin, such as W3 Total Cache or WP Rocket, is required if you want to use MaxCDN.
Price is high for small businesses, especially if you're renewing
Do not offer a free domain
Pricing
Siteground primarily offers 3 hosting plans for WordPress such as Startup, GrowBig, and GoGeek. The lowest price of their web hosting plan is Startup that is started from 3.99$ per month.
Overall, Siteground is an excellent web hosting service that excels in every major department. If you're looking for a personal site, Siteground may not be the cheapest option. However, If you're putting together a business, Siteground will do great!
Liquid Web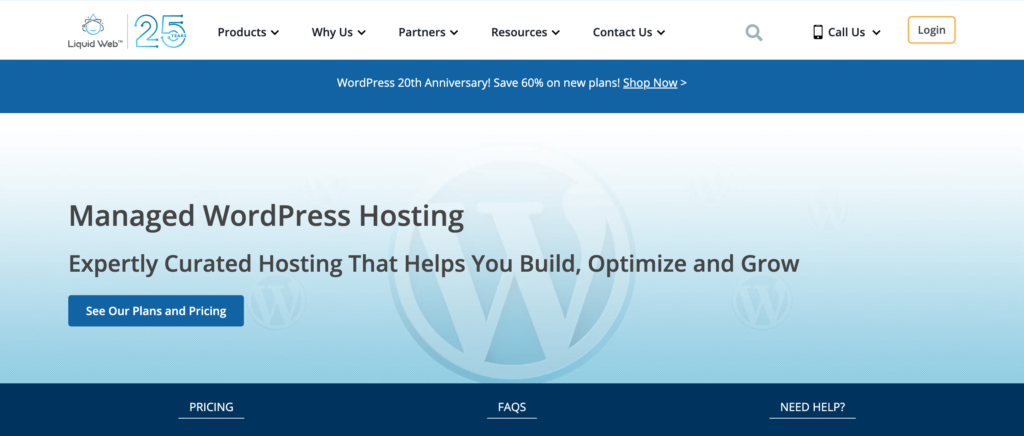 Liquid Web is a hosting company that provides and manages hosting solutions for businesses of all sizes. It is the biggest player using Cloud and VPS hosting. Although it provides plans for all types of businesses, it's the best option if you're searching for a top-notch hosting facility for your company.
Larger businesses that want fast, reliable server infrastructure on managed hosting can also use Liquid Web. However, keep in mind that quality and dedication cost more, so if you choose one of their more effective plans, be ready to pay a three-digit charge each month.
Liquid Web features at a glance:
Provides professional support and quality services with a 99.99% uptime guarantee
There's no traffic limit. You can generate as much traffic as you want!
Data centers are totally private and owned by Liquid Web, so no need for any third-party data centers!
Liquid Web does not have any restrictions on your server, in contrast to several rivals. If you're skilled, you can use the many tools that the organization provides to customize the server to your needs
WordPress CMS is fully managed and anyone can enjoy their developer tools
Provides premium email anti-viruses
They provide the highest-quality support by mail, chat, and phone call. Also, they have a knowledge-based support system.
Drawbacks
Liquid web hosting price is expensive compared to other hosting providers. Particularly their premium hosting plans.
Not suitable for beginners or those who don't have the technical expertise
Does not provide a shared hosting plan which is a barrier for small businesses or startups
Customers cannot use Liquid Web's services for free during a trial period in order to evaluate them before purchasing their package
Pricing
Liquid Web has different types of hosting plans. For WordPress, their pricing plan starts from $19.00 per month.
Dreamhost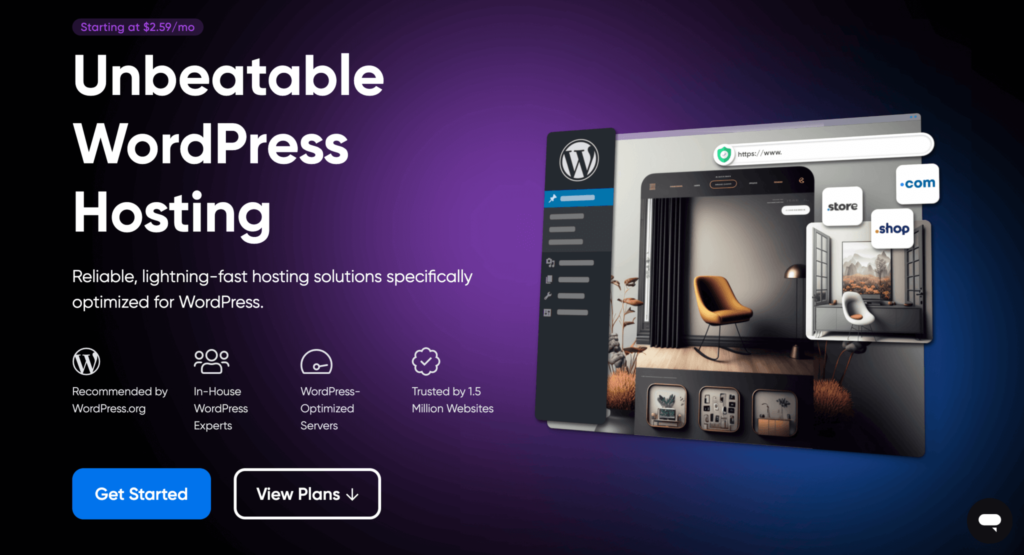 Dreamhost is a web hosting company that offers a wide range of hosting solutions for all sizes of websites. It was established over 20 years ago.
Dreamhost is one of the popular hosting providers directly recommended by WordPress. It has a solid reputation for its reliable and quality services. Their service includes shared hosting, VPS hosting, cloud hosting, and dedicated hosting.
Dreamhost features at a glance:
Dreamhost is beginner-friendly and offers a quick WordPress installation from their clean interface
It is easy to use to install SSL certificates or manage email accounts
Free domain privacy features
It provides good, fast loading times and 99.99% uptime results for a website
Drawbacks
Email hosting is not included in the service
The support system is great but their live chat is limited and also don't expect phone support
Pricing
Dreamhost provides excellent pricing plans compared to others. The pricing plan starts from just $2.59 per month.
Final verdict
All of the options we've mentioned above offer excellent speed. However, the ideal choice for you will rely upon your individual requirements and financial situation.
If you need a high-performance site with effective caching and optimization, WP Engine or Kinsta can be the best option for you. DreamHost and SiteGround on the other hand offer a cost-effective choice with good performance.
Having the advantage of picking a custom server and CDN package can be even better. That said, Cloudways is great in case you want a customized hosting package.
Selecting the fastest WordPress hosting will boost your website's speed and help accomplish your online business goal. So what are you waiting for?
Go ahead and choose the one that meets your requirements!